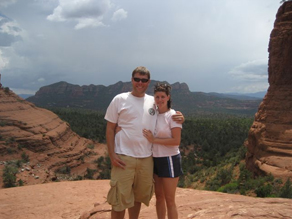 Chris and Linda Metzger in Sedona, Arizona.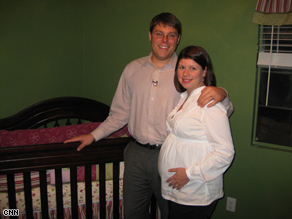 Chris and Linda Metzger at home.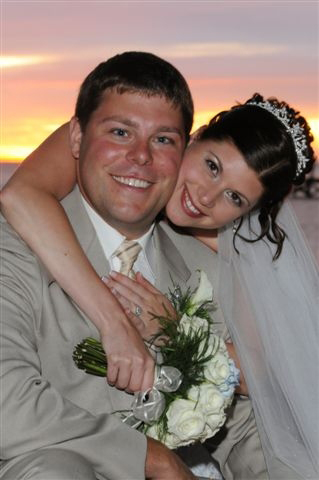 Ismael Estrada
AC360° Producer
Just watching newlyweds Chris and Linda Metzger, you know they were meant for each other. They have a world of stress on their shoulders, yet they find a way to smile.
They have been sucker-punched not once, not twice, but three times by this sagging economy. Linda was laid off in March of 2008 from her job at Lehman Brothers. She was pulling in well over 6 figures in total compensation and living a good life in Queens, NY. The couple was about to get married in a few months, but rather than sulking, they decided it would be a great time to dust themselves off and create a new life in Arizona.
They both nailed down similar jobs with similar salaries in the Phoenix area. They got married in June and relocated. They bought their first home together, two new cars and quickly found out they were going to have a baby. All was going well until a day in October when Linda was called into her manager's office. For the second time in less than a year, Linda was laid off from a good paying job.
"They told me that the company was having economic difficulties and that they had to make budget cuts. They were afraid that they were going to have to let me go and that it was not due to performance," said Linda Metzger, who added she couldn't believe this was happening again. "The exact thing I said to my boss was, I just went through this!"
Only this time, Linda had a new baby on the way and a mountain of bills that needed to get paid every month. After telling her husband the news, they focused on figuring out how to deal with the loss of close to 70 percent of their income.
And then, one week later, when Chris Metzger arrived at work, he said couldn't believe his ears.
"The owner of my company walked into my office and said, sorry we are closing this branch and we're going to have to let you go." Chris Metzger said. He now had to figure out a way to tell his new wife the news. "I just came home and she was upstairs, I walked upstairs and gave her a hug and said, I've lost my job today."
Linda fell to the ground in tears. How were they going to survive?
I interviewed the Metzgers for a story on how today's economic troubles affect not only people who lose their jobs, but businesses that lose money when their customers lose their jobs.
I have a feeling the Metzgers will be OK. They maintain a positive attitude. They have cut unnecessary expenses. Chris got another job, though they are only bringing in a small fraction of what they used to earn.
They talked about opening their own business together. They laughed and joked, and put a good face on their life. I'm confident that they'll find their way out.
As we drive around Phoenix we see empty apartment buildings, going out of business signs and struggling restaurants. I can't help but think back to Linda and Chris Metzger and hope that they, and so many thousands more like them, will all be OK.