Program Note: Tune in to hear more from Peter Bergen tonight on AC360° at 10 p.m. ET.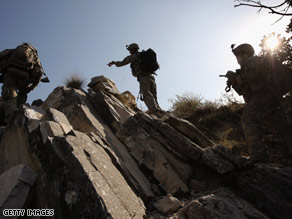 President Obama says he is sending an additional 30,000 troops to Afghanistan.
Peter Bergen | Bio
AC360° Contributor
CNN National Security Analyst
When President Bush left office the Taliban were stronger than at any point since they had lost Kabul seven years earlier. The Taliban, which in 2002 had barely been more than a nuisance, now controlled large sections of Afghanistan's most important road, the Kabul to Kandahar highway. And the southern part of the country was not only the source of the vast majority of the world's heroin, but it was also quite dangerous for those the Taliban deemed an enemy, which, in practice, meant pretty much anyone who wasn't part of their movement.
By mid-2008 more Americans soldiers were dying in Afghanistan every month than in Iraq. And, by one estimate, by the end of 2008 Taliban had a permanent presence in 72 percent of Afghanistan, up from 54 percent the year before. Indicative of their increased ability to operate more or less freely anywhere in the country, on August 18, 2008 some 100 Taliban fighters ambushed a French-Afghan patrol about 25 miles east of Kabul and in a 12-hour battle killed ten French soldiers. Similarly, in Wanat in the eastern province of Nuristan a few weeks earlier, on July 13, 2008, approximately 200 Taliban guerrillas attacked a NATO base killing nine American soldiers and wounding 27 more.
On January 22, 2009, two days after his inauguration, President Obama made a speech at the State Department declaring that Afghanistan and Pakistan were the "central front in our enduring struggle against terrorism and extremism." This, of course, was true, but few commented at the time how strange an statement this was. After all, hadn't the Taliban been defeated in the winter of 2001? And wasn't Pakistan a close American ally in the 'war on terror'?
At the State Department that day the President and Secretary of State Hillary Clinton announced that they were creating a new diplomatic job, appointing a US Special Representative to Afghanistan and Pakistan.
That Special Representative was Richard Holbrooke, the veteran diplomat who had cajoled, charmed and bullied the warring parties in the Balkans to make peace at Dayton in 1995. His appointment was a recognition by the Obama administration that stability could not come to Afghanistan without a stable Pakistan, and vice versa, and also of how much work needed to be done in the region to end its status as the "central front" for al Qaeda and its allies.
Holbrooke arrived in Pakistan Monday, for several days of talks in the region, his first trip there in his new capacity.