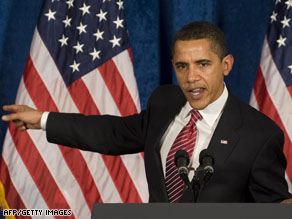 Penny Manis
AC360° Senior Producer
President Barack Obama was fired up last night during his address at the House Democratic Caucus in Virginia. In speaking about the importance of passing the stimulus bill, he said, "This is not a game, this is not a contest for who's in power, who's up and who's down, these are your constituents…it is important for us to set aside some of the gamesmanship in this town (Washington, D.C.) and get something done."
He also said, "I don't care whether you're driving a hybrid or SUV, if you're headed for a cliff, you've got to change direction." And by cliff, I guess he meant things like the job report out today, which shows the rate jumping to 7.6%, up from 7.2% last month. The U.S. lost 598,000 jobs in January, the 2nd worst month of job loss in history.
The WH and Senate Democratic leaders indicate they are about 3 votes short of the 60 needed to pass President Obama's economic plan through the Senate today. A bipartisan group of nearly 20 senators are back on the case, trying to compromise on the latest version of this stimulus bill. Word has it that they are trying to come to an agreement on cutting about $100 billion out of the $900 billion stimulus bill.
Meanwhile, Treasury Secretary Geithner is planning to unveil a separate financial stability plan that could cost billions of dollars more to buy up troubled assets from banks and deal with the credit and foreclosure crisis. This is described as a major reform of the Troubled Asset Relief Program (TARP). It's getting confusing isn't it? Which billion dollar package is part of which? Ali Velshi and our team will make sense of it tonight.
Joe Johns spotted a story about Govt watchdogs which conducted a study concluding that Treasury paid substantially more for the assets it purchased under the TARP program than their current market value. EEK! There is a report today detailing these findings on possible overpayments and Joe will be keeping them honest.
President Obama announces the members of his Economy Recovery Advisory Board. He also meets with families of the victims of 9/11 and USS Cole attacks. The WH says the President wants to speak with this group about resolving the issues involved with closing Guantanamo Bay – "while keeping the safety and security of the American people as his top priority." Ed Henry and our best political team will have all this and more tonight.
TGIF everyone. Stay warm and see you tonight!