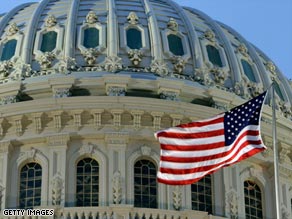 Penny Manis
AC360° Senior Producer
President Barack Obama's $819 billion dollar stimulus plan is on its way to the Senate after passing the House last night. No Republicans vote for it, and critics are skeptical it'll kick-start the economy.
It's not easy working out what is pork versus what translates into jobs, but it depends who you ask on Capitol Hill.
Critics say the plan will take too long to be considered a "stimulus" and that it's filled with pet projects. One of the biggest flash points is $335 million dollars for STD Education, and other such examples exist in this bill. Ali Velshi will join us tonight to continue breaking it all down for us.
President Obama is pretty relentless: even after he got no Republican support for his bill, he hosted a cocktail party at the White House for lawmakers from both parties. Is he a charmer?!
The Senate version of the stimulus is approaching $900 billion dollars, and it's hard to say how the House Republican party-line no vote will impact GOP Senators. A vote is likely next week in the Senate.
Today President Obama signs the Lily Ledbetter Bill designed to give women equal pay for equal work. Later in the afternoon he meets with Treasury Secretary Geithner, and then with Secretary of State Hillary Clinton. Ed Henry will be following his moves and give you the highlights tonight!
It seems the economic downturn is REALLY hitting everyone. The postmaster General told Congress it faces a $6 bn loss this year and warned that the postal service may reduce mail deliveries to 5 days a week if Congress does not allow it to restructure health benefits for postal workers.
Postmaster General John Potter said the postal service could stop deliveries on either Tuesdays or Saturdays during the summer if the change is not approved. The postal service has been required by federal law to deliver mail six days a week since 1983. Email, anyone?
More news (or entertainment, depending on how you look at it) from Governor Rod Blagojevich. The Illinois Senate today decides whether to allow him to speak at his impeachment trial, which he has avoided all week.
There are 3,140 counties in the U.S. Of all those counties, the most anti-Prez Obama county on Election Day was King County, Texas where he received just 8 votes. (The ten most anti-Prez Obama counties are all in Texas and Oklahoma.) Gary Tuchman traveled to the area to see how folks there feel about President Obama today, his results may surprise you!
See u tonight.