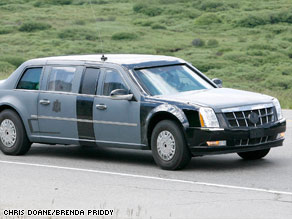 The style of the presidential limousine, though President Obama's car is black.
Reporter's Note: President Obama has solicited public input. There are 300-million Americans. That's a lot of letters.
Tom Foreman | Bio
AC360° Correspondent
Dear Mr. President,
Just seven days ago you were standing in the cold taking the big oath, and now you are celebrating your weekiversary! Congratulations. I imagine this has been either the longest or shortest week of your life, and maybe at times it felt like both. But you made it through with no major slips, no scandals, no ill-timed cracks at someone who might take offense. I know that sounds like a modest accomplishment, but in Washington we're used to watching our politicians stumble around like Boris Yeltsin at an open-bar wedding reception, rest his soul. So again: Good on ya.
I've addressed several serious matters of late, so I want to shift gears to something that is not so intense: That new ride of yours. The Cadillac limo. The Beast.
I understand that the Secret Service is keeping its best Bond features under wraps, but from what I gather this is quite the car. Rocket-stopping steel plate, bullet-proof glass, tires that can never go flat; impervious to chemical attacks, and I'm willing to bet, it has a GPS system that looks like something from the Matrix. Which I suspect you'll want because the mileage must be the pits, what with it weighing at least six-thousand pounds.
But has it occurred to you that while you have the coolest cruiser in town, you can never drive it? Presidents don't get to drive anywhere. You always need some sort of Jack Bauer, quick getaway man behind the wheel. Judging from The West Wing, you have to conduct all sorts of important meetings on the roll. Plus, if you did drive, and got into a wreck, the liability issues would be awful. I suspect, not even that little lizard could get you affordable insurance.
Maybe you can get the security guys to take you to the stadium where the Redskins play and let you drive around the lot. I know that seems like small potatoes, but even though being President comes with a lot of perks, it also has its downsides. And frankly I don't even know if ex-presidents get behind the wheel much.
Take heart. If you make it eight years in office, your daughters will be driving by the time you get out. They can get you around. And you think you have worries now!
I've friended you in Facebook.
Regards,
Tom
To read more of the Foreman letters, click here.