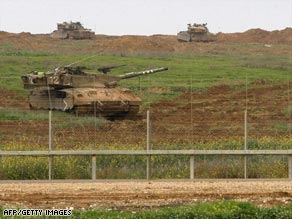 Israeli tanks prepare to leave Gaza on Monday.
Stephen M. Walt
Foreign Policy
Many supporters of Israel will not criticize its behavior, even when it is engaged in brutal and misguided operations like the recent onslaught on Gaza. In addition to their understandable reluctance to say anything that might aid Israel's enemies, this tendency is based in part on the belief that Israel's political and military leaders are exceptionally smart and thoughtful strategists who understand their threat environment and have a history of success against their adversaries. If so, then it makes little sense for outsiders to second-guess them.
This image of Israeli strategic genius has been nurtured by Israelis over the years and seems to be an article of faith among neoconservatives and other hardline supporters of Israel in the United States. It also fits nicely with the wrongheaded but still popular image of Israel as the perennial David facing a looming Arab Goliath; in this view, only brilliant strategic thinkers could have consistently overcome the supposedly formidable Arab forces arrayed against them.