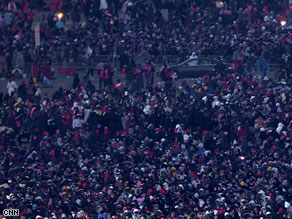 Tens of thousands of people had gathered on the National Mall by 7:15 a.m. ET Tuesday.
Kay Jones
AC360° Coordinating Editorial Producer
Team 360 is heading to the area of the Newseum. Yes, we got done at midnight last night, but because of the massive crowds, we had to leave the hotel super early in order to get through security and make sure we are set up before the 10a coverage begins on CNN.
Yesterday was crazy! We did some live shots during the day on the Mall. Then came back for the show. I was with Randi Kaye at the Huffington Post party so missed out on the crowds around Anderson last night. But if yesterday was any indication, he was probably mobbed. People were clamoring for pictures, hugs, hand shakes, and even just a glimpse of him.
At the party last night, it was so crowded, you couldn't move. After we left, Randi and I were talking about how wild it was there. I mean, as many people were stopping for pictures with our own John King and NBC's David Gregory as they were Ben Affleck and Sharon Stone. It was a bit surreal. I was really amazed with how many celebrities I saw, all in town for the same reason we are: to see the new President take his oath.
More from the Newseum later today. Be sure to watch tonight as well for all the latest from the top of the Newseum.
___________________________________
Update 9:33 a.m. ET
People, people as far as the eye can see. We are on the roof of the Newseum again. Everyone seems to be in fine spirits, even with the long walks in the cold to get here. We have a long day ahead, but will bring you all of the excitement both on CNN and on the blog.
_______________________________________
Update 10:58 p.m. ET
Obama's caravan just passed by. People are cheering so loudly, and even though we are on the 10th floor of the Newseum, you can hear them!
It's not nearly as cold, and the heaters seem to be working. So all of our analysts and anchors seem to be happy right now.