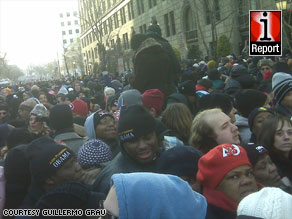 Thousands of spectators crammed the street outside one of the security gates at the ceremony Tuesday.
Nic Lott
Mississippi Office of Renewal and Recovery
What an amazing day for America! Whether you are a Republican or Democrat, today is a day we can all look upon with joy for our young democracy.
The excitement in the air is widespread. People are laughing, dancing, crying, hugging, jumping, and some are even shouting. I welcome to the political roundtable those in my generation who have been absent.
It is freezing out here. Almost a bit too much for a Smith County boy from Mississippi.
It's all worth it as I will be able to tell my one year old son Nicholas all about it some day.
The streets are covered with eager anxious onlookers awaiting the inauguration of America's first black president.
Read Nic's earlier blog posts here.
Editor's note: Nic Lott is Director of Special Operations in the Mississippi Governor's Office of Renewal and Recovery. He was the first African American student body president at Ole Miss.