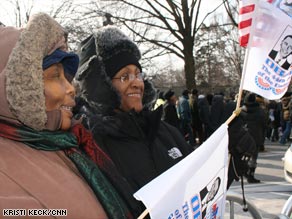 Nic Lott
Mississippi Office of Renewal and Recovery
Another line has been etched into the stone of America's greatness.
Upon President Obama's face is a picture of the responsibility and burden of the presidency.
As I look at this picture, I am inspired by the strength and optimism of the United States of America.
President Obama delivered a powerful message to our nation as he summoned the citizens of America to act in good faith while also delivering a message to the world that we will continue to defend our values, freedoms, and way of life.
Great speech and great message. Government is here to help those who are in need but, government is not the answer, we as a people are the solution to America's problems.
If we dream it, if we act upon it, if we live it...yes we can accomplish it.
I pray for our new president and his family. God bless America.
Read Nic's earlier blog posts here.
Editor's note: Nic Lott is Director of Special Operations in the Mississippi Governor's Office of Renewal and Recovery. He was the first African American student body president at Ole Miss.