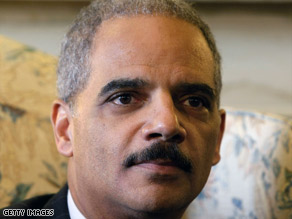 Attorney General designate Eric Holder will likely face tough questions during Thursday's nomination hearing.
Arlen Specter and Edwin Meese III
For The Wall Street Journal
The Senate Judiciary Committee hearing on Eric Holder's nomination for attorney general has failed to focus on the threat to constitutional rights posed by what is known as the "Holder Memorandum." Near the end of the Clinton administration, this memo changed Justice Department policy regarding the formerly unquestioned right to counsel and to confidential communication with one's counsel.
The Holder memo allowed federal prosecutors to demand waiver of these rights in exchange for characterizing a corporation as "cooperating in an investigation" so that it would not be charged with a crime itself. It thus handed prosecutors a powerful weapon in white-collar criminal investigations.