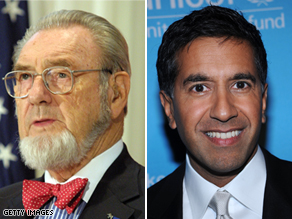 Former U.S. surgeon general C. Everett Koop and CNN's Dr. Sanjay Gupta.
Jack Gray
AC360º Associate Producer
So, I've been practicing my salute in case I run into Dr. Sanjay Gupta in the hall today. Granted, I'm used to saluting Anderson whenever I ask for a day off from taking Esther, his Orangutan, to tap dancing class but this is different. I can't believe the next time I want Sanjay to check out a suspicious mole on my arm I'm going to have to go through Rahm Emanuel.
Without a doubt, Dr. Gupta will be an outstanding Surgeon General (assuming he accepts the post). He's a brilliant neurosurgeon, he has government experience from his time working as a fellow in the Clinton White House and, as CNN viewers know, he's an enormously gifted communicator. And, yes, Sanjay was once named one of People magazine's "Sexiest Men Alive." Just like C. Everett Koop.
The Sanjay news, of course, is only one item on a big list of headlines for the Obama camp this week. Among the others: Leon Panetta is going to be Director of the CIA. I know there's some concern about him not having enough of an intelligence background but I think that's unfair. After all, he owns The Bourne Supremacy on DVD and was once in line behind Tom Clancy at Wendy's.
Then there's my new favorite soap opera: As the World Turns and Roland Burris Holds Another News Conference. Burris has now upped his demands to 10 senate seats and Kelly Clarkson tickets. The poor guy – stuck out in the rain, trying to convince people he belongs there. It's like me at Ali Velshi's book party all over again.
Don't forget about the big gathering at the White House today. President Bush is hosting President-elect Obama, former President Clinton, former President Bush and former President Carter. They're scheduled to discuss the economy, foreign policy and whether Paula Abdul and that new lady judge on American Idol are already in a feud.
And for those of you who have asked, yes, just come to AC360.com on Sunday night at 8pm Eastern Time for my live blog of the Golden Globes – the annual gala where Hollywood stars come together, drink too much and say no, as a matter of fact it is NOT an honor just to be nominated.
And now if you'll excuse me, I'm off to buy a pack of cigarettes so I can have Sanjay autograph the Surgeon General's Warning. Because it's never too early to be thinking about next Christmas.