Program Note: Watch Anderson report LIVE from Israel tonight on AC360° at 10 pm ET.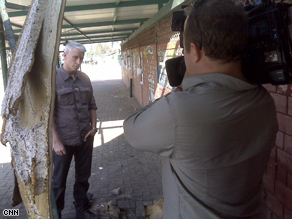 Anderson Cooper
You see the explosions before you hear them. A giant plume of gray smoke rising in the air, it's not until seconds later that the sound of the impact reaches you, here in Israel about 2 miles from the border.
Of course, it's not like that for those on the ground in Gaza. Those close to the fighting no doubt hear the missiles before they see them, before they even hit. We are stuck on a hill overlooking the border, within sight of the battleground, but a world away.
If we had a choice we'd be on the ground in Gaza, but the Israeli government won't let reporters get any closer.
We are entering the third night of ground combat operations, and its impossible to get a sense of how the battle is going. All sides project confidence. All sides give you numbers:
The Israelis say at least 40 Hamas rockets were fired into Israel Monday and at least 40 airstrikes were launched against Hamas targets.
No Israeli civilians have been killed today, though 4 Israelis have been killed by rockets since the crisis began.
Palestinian medical authorities say well over 500 Palestinians have died so far; and more than 2750 wounded. One Israeli soldier was killed yesterday, the first fatality since ground operations began.
The numbers tell a part of the story, but they don't truly give you a sense of the pain, the fear, the anger.
Positions are hardening. A senior Hamas official today made greater threats, saying Israelis "legitimize the killing of their people all over the world when they killed our people."
Diplomatic efforts are gaining momentum, and outrage over the civilian casualties in Gaza appears to be growing. But most Israelis still strongly support their government's efforts to stop the Hamas rockets, and the fighting shows no sign of letting up anytime soon.