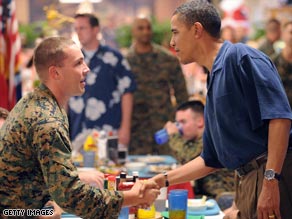 President-elect Obama shakes hands with troops having Christmas dinner at a military base in Hawaii.
Paul Krugman
The New York Times
Times have changed. In 1996, President Bill Clinton, under siege from the right, declared that "the era of big government is over." But President-elect Barack Obama, riding a wave of revulsion over what conservatism has wrought, has said that he wants to "make government cool again."
Before Mr. Obama can make government cool, however, he has to make it good. Indeed, he has to be a goo-goo.
Goo-goo, in case you're wondering, is a century-old term for "good government" types, reformers opposed to corruption and patronage. Franklin Roosevelt was a goo-goo extraordinaire. He simultaneously made government much bigger and much cleaner. Mr. Obama needs to do the same thing.