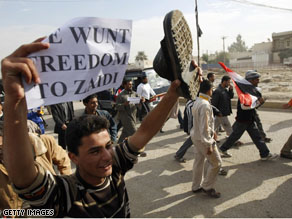 An Iraqi shouts as he holds up a slipper and a sign as they protest against yesterday's visit by US President George W. Bush and the arrest of an Iraqi journalist in Sadr City.
Octavia Nasr
CNN Arab Affairs Editor
He threw his shoes at President George W. Bush at the end of the opening statements of a joint press conference in which Mr. Bush bid farewell to Iraq and sealed the security agreement known as SOFA (Status of Forces Agreement). Although, many elevated the shoe-thrower to the level of "national hero," some put him in the wrong and called what he did "shameful."
His name is Munthadar al-Zaidi, a reporter for a new Iraqi station called Al-Baghdadiya (The Baghdadi). The station was founded in 2005 and al-Zaidi has worked there since its inception. On its website, Al-Baghdadiya explains that "it is an independent station that broadcasts out of Cairo with offices in Baghdad and Cairo. It is owned by Iraqi businessman and engineer Aoun Hussein Tashlook and has no affiliations to any persons or groups."
At the end of the press conference, President Bush shook hands with his Iraqi counterpart Nuri al-Maliki, then turned around and said in Arabic as he is looking towards the audience, "Shukran Jazeelan" meaning "Thank you very much."
At this very moment, al-Zaidi stood up held his shoe up, aimed and shot it towards President Bush. The president ducked and avoided the fast flying shoe. Then al-Zaidi threw the second shoe and shouted, "This is a farewell you dog." as he was pinned down by security personnel present in the room.
The image of President Bush ducking and President Maliki's hand trying to protect him from the second flying shoe is plastered on the front pages of every major Arabic newspaper with a variety of captions. Ranging from, "A twin-shoe attack almost hits President Bush in the face. This is a goodbye kiss from the Iraqi people you dog" In Lebanon's Assafir newspaper, to a headline in the Saudi-owned, London-based Al-Hayat newspaper that reads, "Iraqi reporter throws a pair of shoes at Bush and Maliki. Bush bids farewell to Baghdad stressing that what happened is important for Iraqis to get a taste of freedom."
The Opinion Editorial that got the most reader reaction came from the London-based Al-Quds Al-Arabi, who's Editor-in-Chief, Abdel Bari Attwan, is known for his anti-Bush sentiments. Attwan titled his piece, "An appropriate farewell for a war criminal." The article generated hundreds of replies from readers filling 35 printed pages, most of them agreeing with the premise of the article. A few voices of contempt at what al-Zaidi did found their way to the reaction board. One of them saying that, "If this reporter is hung like Saddam Hussein, it would be less shameful to him than the shame that his act will bring him from his family, friends and society." Another post questioned whether this same reporter "would've even dared to criticize Saddam Hussein, let alone throw a shoe at him."
Al-Zaidi's employer, Al-Baghdadiya, hosted a live broadcast taking viewers' calls in while showing al-Zaidi's reports in a split screen. The show received a large number of calls from Iraqis living outside Iraq and from many viewers from across the Arab world. While most callers supported al-Zaidi and called him a "hero," others expressed disagreement and called his act "inappropriate."
The Iraqi National Media Center which reports to the office of the Prime Minister issued a statement calling al-Zaidi's act "savage shameful assault on the US President that has no relationship to the profession of journalism." In the same statement, the group demanded a public apology from Al-Baghdadiya because the statement said, "We do condemn that shameful act, and ask his channel to apologize officially, because his act stained media and Iraqi journalists badly, as well to the place of the conference, this act was condemned by his colleagues available there. We ask all decent media sides to ask employees representing them not to misuse facilitate given to media personalities.The act harmed the reputation of Iraqi journalists."
Meanwhile, a website in support of al-Zaidi was established along with a FaceBook page that already drew more than a thousand "fans" as the page describe them.