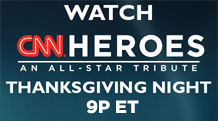 Editor's Note: To discover and reward our own colleagues doing their part to change and improve the world by sacrificing time and energy outside the office, we established 'My Heroes.' For several weeks we reached out to our staff for 'My Hero' nominations... After two rounds of judging, three winners and seven finalists were selected. Here are their stories:
______________________________________________________________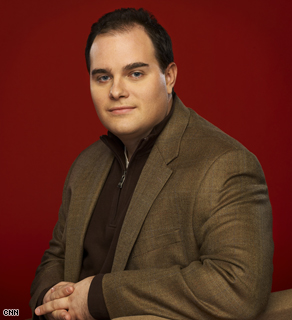 WINNER: Eric Marrapodi
Producer CNN Washington D.C.
All because of a re-assignment to CNN's New Orleans in the last few years, Eric's steadfast work behind-the-scenes (literally) rebuilding the city has impacted thousands of lives. Eric used his journalism skills to produce and edit his very personal journey "Signs Amid the Rubble". That DVD has acted as a rally-call for volunteers and cash donations via churches around the nation to lend a hand. He's gutted more than 350 homes and fed up 'legions' of volunteers red beans and rise all while boosting the energy and momentum around the communities being restored.
Eric Marrapodi is one of those rare individuals who comes along and is great at what he does as a journalist, and an even better person. While serving as a producer in the Gulf Coast Bureau for nearly two years, Eric did an amazing amount of work to help hundreds of families hurt by Hurricane Katrina.
Working as one of the organizers with his church Eric helped gut more than 350 homes - these are people who didn't have the money to do the work themselves. Eric was involved in bringing other churches to New Orleans and once a week he and his wife would feed the legions of volunteers red beans and rice, and tell them about the community they were working to restore.
Eric and his wife fed more than one-thousand volunteers over the past year. He also produced, and edited a DVD called, "Signs Amid the Rubble." This DVD was sent to churches around the country and was responsible for thousands and thousands of volunteers coming to gulf coast. It cost Eric about $10,000 to put the video together. It is an amazing and emotional piece of work.
Through Eric Marrapodi's work, thousands of volunteers flocked to New Orleans. These volunteers did hard, difficult, dirty work that homeowners here simply didn't have the money to do. Chiefly gutting homes –ripping out water-logged drywall, carpet, and such.
Eric's video, "Signs Amid the Rubble" which chronicled efforts to rebuild in New Orleans, was sent to five-thousand churches around the country. These churches brought volunteers, and their checkbooks to the region and without question –improved the quality of life for hundreds and hundreds of homeowners.
The thing about Eric, you would never know he was doing this. He is as humble as he is dedicated to making New Orleans a better place. Shortly after Eric moved to New Orleans he was touched by the many, many families who had no insurance and didn't have the money to rebuild their destroyed homes and lives. Almost instantly, Eric looked for a church that would not only meet his spiritual needs, but also one that is active in giving back to the community. Every week, Eric would work with volunteers to gut homes, and help those who were less fortunate.
If he wasn't gutting homes with his church, quite often he would be swinging a hammer with Habitat for Humanity as that organization worked on the Musicians Village.
A lot of people say they want to make their slice of the world a better place. Eric Marrapodi is someone who really lives life that way.