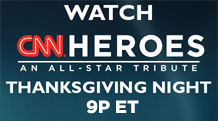 Editor's Note: To discover and reward our own colleagues doing their part to change and improve the world by sacrificing time and energy outside the office, we established 'My Heroes.' For several weeks we reached out to our staff for 'My Hero' nominations... After two rounds of judging, three winners and seven finalists were selected. Here are their stories:
______________________________________________________________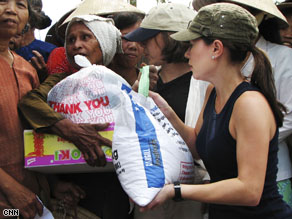 Betty handing out aid on one of her annual humanitarian aid trips to Vietnam.
WINNER: Betty Nguyen | BIO
Anchor, CNN
Betty Nguyen established Help the Hungry in 2000. The foundation's global mission is to relieve human suffering by providing humanitarian aid to the less fortunate. The group distributes relief supplies during the most desperate times. Food, clothing, medicine and basic essentials serve as a life-line to families facing unimaginable and extreme hardships. These necessities also provide those in need with hope, while recognizing their dignity and ability to solve their own problems.
Help the Hungry was created from Betty's deep desire to help those in desperate need. When she and her mother returned to Vietnam for the first time since fleeing the war, the poverty, hunger and despair was still very evident. She couldn't help but think that it was only by sheer grace that her family was not suffering the same fate.
Betty is not just a face for this cause. Every year, she braves the difficult conditions of the monsoon season in Vietnam, spending weeks at a time in the flooded Delta region distributing aid that she has collected. This is a personal mission for Betty as she has family roots in Vietnam and a strong commitment to help the people of her birth country.
Since it's inception in 2000, Help the Hungry's annual humanitarian aid trips have served as a life-line to thousands of struggling families. Betty's group has raised over $100,000 to provide aid to dozens of poverty-stricken villages, schools and orphanages.
During a recent humanitarian aid trip to Vietnam, Help the Hungry provided 2 tons of relief supplies to families facing extreme poverty. The flooding was so bad in some areas that Betty and other volunteers had to travel by boat to reach families literally trapped inside their homes. Betty has also used her power as an anchor to educate viewers and her staff about the situation in Vietnam. As Betty says, it's hard to imagine people living in such desperation. The fact is, it's a reality for millions around the world and Betty Nguyen is actively helping to make a difference in their lives.
In the rural areas of Vietnam, families have little more than grass huts with dirt floors and hardly enough food to survive. Combine that with the annual monsoons, and the destruction is both deadly and devastating. Betty knew something had to be done. Help the Hungry is the result of her passion to help those in need.
In addition to Betty's anchor and reporting duties, she is committed to seeing Help the Hungry grow and impact more lives. Her work in Vietnam is proof that lives can be improved by targeting a need and becoming effective in a particular region. Help the Hungry has been instrumental in helping thousands rise from devastation in Vietnam, and with the proper funding the group plans on strategically expanding into other regions. Betty brings her passion for making a difference to the CNN screen everyday, and truly practices what she preaches.