Editor's Note: Andre Heller worked as a logistics coordinator for Doctors Without Borders in the North Kivu region of the eastern Democratic Republic of Congo (DRC). He returned from the DRC in October, after working there for 14 months. Andre reflects here on his time in the DRC on the occasion of the launch of Condition: Critical, a multimedia project produced by Doctors Without Borders that shares testimonies of people whose lives are filled with violence, displacement, and hopes for the future.
______________________________________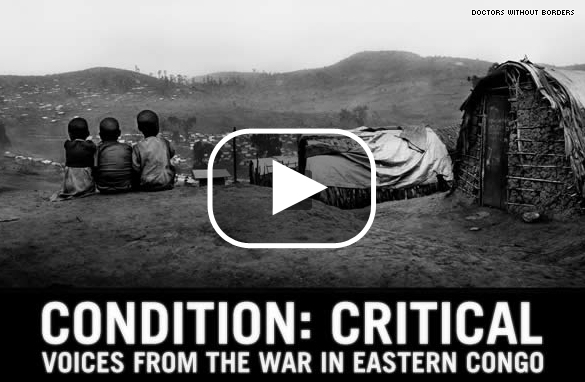 Andre Heller
Doctors Without Borders
It took about 24 hours for me to realize I was going to stay quite a while longer than the three months I originally signed up for. I would have stayed longer than 14 were I not so tired. I'd never seen a place with such beautiful terrain, fertile ground, and lively people. One of the most breathtaking places I've ever been in my life. The sad reality of North Kivu is that constant fighting, displacement, and human suffering are as much a part of the landscape as the volcanoes around you. An area this war torn doesn't leave one wondering if people are OK or not. You know there's something wrong. It got under my skin and I didn't want to leave.
When you watch this multimedia feature (Condition: Critical), imagine that for each person that gives their personal testimony, there are 125,000 you have not yet heard.
With time you realize what it means to people when year after year everyone waits, and waits, to see if the latest round of violence will bring a period of calm that will last long enough for them to resume a normal life. Sadly, year after year people are disappointed. I stayed long enough to live through two of these cycles. Fighting breaks out. No one really wins. After some intense months, talks happen. Things calm down. Even when it's supposed to be calm, it's not. Things heat up again… The already displaced are displaced again, and then again. Another agricultural season missed. Another school year missed. Another relative lost to violence or preventable illness.
So we run hospitals, health centers, and mobile clinics. We respond to epidemics like cholera and measles. We're constantly adapting our strategy to the movement and needs of the people around us. And despite the fighting, we haven't stopped working. We don't rely on armed escorts because our neutrality, our medical work, and our reputation allow us to work on both sides of the front lines.
This experience filled me with a sense of purpose. Despite the distance between my desk in the Doctors Without Borders office in New York (where I'm typing this) and North Kivu, a part of me is still out there with those who are not lucky enough to make the decision to leave.