Program note: As the new First Family prepares to move to the White House, we look at how their social life will change. Watch Randi Kaye's report tonight 10p ET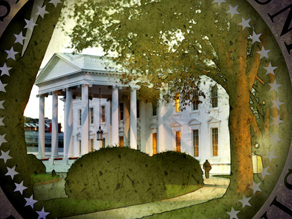 Randi Kaye | Bio
AC360° Correspondent
Think back to when you last moved.
How long did it take you to find your new favorite restaurant or decide where to work out, or get your hair done? Well, very soon, President-Elect Barack Obama and his family are going to have to figure all that stuff out.
I am spending the day in Washington D.C. and the city is absolutely buzzing about the First Family moving to town. This impending move is all my cab driver wanted to talk about!
I interviewed Washington Post columnist Sally Quinn for my story tonight on AC360. She expects the Obamas will bring a new vibe to D.C. She says there has been almost zero contact with the Bush's the last 8 years and believes the Obamas, who are younger and have young children, will bring new energy to the city and move about town more.
Where will they go? They may favor informal restaurants. Some have suggested Cactus Cantina, a family-oriented Mexican restaurant. For ladies' lunches, Michelle Obama may head to the Jockey Club, which re-opens this weekend, and where Jackie Kennedy used to frequent.
Those who pay attention to the DC political social scene seem to agree the Obamas aren't going to be out on the town ALL of the time. After all, Michelle Obama has said motherhood comes first and will likely want to stay home and help her girls with homework and tuck them into bed early on most nights.
One thing we may see more of: State Dinners at the White House. Apparently, George and Laura Bush did not like to entertain very much and only held 13 dinners in 8 years. Given Obama's reception around the world, Quinn says, he may be more eager to reach out to other countries and wine and dine other Global Leaders.
The "First Daughters" will likely end up at private school, since they attend private school in Chicago currently. Many here suggest Sasha and Malia Obama may go to Sidwell Friends, the same private school Chelsea Clinton attended.
Lots of buzz here about where soon-to-be-President Obama will shoot hoops. My cabbie told me he doesn't think the half court in the White House will be enough for the "new Prez" as he put it.
No worries. I'm told players from the Washington Wizards, the professional basketball team, are hungry to take him on!
Where would you suggest the Obamas enjoy romantic dinners ? What tone do you think the new First Family will set here? Will this be a return to Camelot?
Watch 360 tonight to get all this gossip and more!