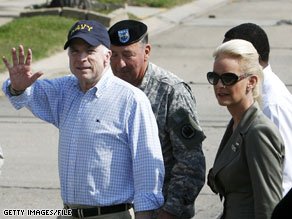 Sen. McCain toured the Lower Ninth Ward of New Orleans with his wife, Cindy, in April of this year.
Leslie Bentz
CNN Political Ticker
The lingering aftermath of Hurricane Katrina looms large over New Orleans residents this election season. CNN's Voter Hotline has received several calls from New Orleans residents wondering where to vote, whether former evacuees are still registered, and how to vote absentee after being displaced.
Joseph Harris of New Orleans was confused about whether his temporary displacement after the storm would affect his registration.
"I was calling to make sure I was on the list. I want to make sure my information had been changed back now from Houston where I was evacuated during Katrina, and I just want to make sure I'm able to vote on November 4," Harris asked on the Hotline.
According to the Louisiana Secretary of State, Katrina's lingering impact doesn't extend to the voter rolls. "There has been no purging because people were displaced by Katrina. Basically, they can vote if we have a good address," said Jacques Berry from the Louisiana Secretary of State office. "If you live in a homeless shelter and have an address, you can register to vote in Louisiana."