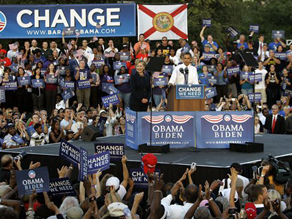 Editor's Note: In addition to being a senior adviser to the Gore 2000 presidential campaign and the chief strategist for the 2004 Kerry-Edwards campaign, Robert M. Shrum's writing has appeared in the Los Angeles Times, The New York Times, The New Republic, Slate, and other publications. The author of No Excuses: Concessions of a Serial Campaigner (Simon and Schuster), he is currently a Senior Fellow at New York University's Wagner School of Public Service.
Robert M. Shrum
Senior Fellow at New York University's Wagner School of Public Service.
Two weeks to go—time enough for one last case of Democratic wobbles and one last resort fueled by Republican desperation.
Democrats, scarred by the stolen election of 2000 and the near miss of 2004, privately worry, wring their hands and, traveling cyberspace's vast expanse, trip over a discouraging word, poll, or prediction. Generally, they needn't look farther than the Drudge Report, which shamelessly selects information—and disinformation—in order to stereotype Barack Obama and denigrate his prospects.
With genuine anguish, one Democrat said to me Sunday, "Did you see Drudge has Obama only 2.7 percent ahead?"
It wasn't actually Drudge, but a poll by Zogby, which Drudge had cherry picked for its pessimism. (Unlike Drudge, Zogby isn't biased; he famously elected Kerry in 2004.) Rasmussen's poll used to be Drudge's favorite, but on Sunday it showed Obama leading by six, so Drudge swept it under the rug.
Perhaps for Democrats, the dark night of doubt is inevitable before victory dawns. But a study of the election state by state reveals McCain has a virtually impossible tight rope walk to victory while Obama has five or six different avenues to win—some of which are veritable boulevards. Not a single one of the states won by John Kerry in 2004 is even close.
In addition, Obama leads, in the Real Clear Politics average of the latest polls, in nine states won by George W. Bush in 2004, including Florida, Virginia, North Carolina, Ohio, Colorado and Nevada. Even in Missouri Obama has a small advantage, and he's only slightly behind in three other Bush states. As former Reagan and Huckabee campaign manager Ed Rollins puts it, McCain has to "draw an inside straight" to win this game.