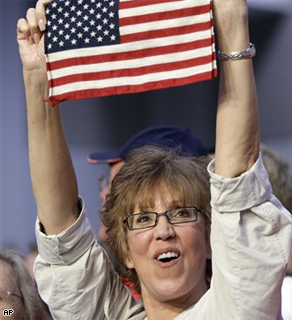 Linda Basch
President, National Council for Research on Women
The all-too-familiar talking points of the candidates reverberated through the air waves for a third and last time on Wednesday, but one key voting constituency was missing from the debate, namely, Jane Plumber, and, more specifically, Jane's retirement funds.
As the bottom falls out of the stock market, the housing market plummets, and sub-prime mortgages put many American voters—especially women—in a financial freefall, it is the federal safety net that they're depending on to cushion their landing. For swing voters, the majority of whom are older woman, this highly contentious election may come down to two often overlooked, make or break issues: Social Security and Medicare.
So far, neither candidate seems to have woken up to the tough economic facts facing so many older women voters. Women represent 57 percent of all Social Security beneficiaries aged 62 and older and approximately 70 percent of beneficiaries aged 85 and older. Women who have been widowed, divorced, or never married are especially dependent on Social Security, which accounts for at least half the income of nearly three-fourths of non-married women aged 65 and older.
Nationally, Social Security is the only source of income for about one-quarter of elderly women, creating a precarious situation at a time in life when economic security needs are greatest. According to the Women's Institute for a Secure Retirement, half of female recipients would be in poverty without their Social Security benefits. As Senator McCain threatens to freeze all federal spending (barring veteran benefits) in order to address our public economic crisis, he forgets that his actions would precipitate a severe economic crisis for so many older women living S.S. check to S.S. check.
Women like McCain's own mother, a visible reminder of the candidate's robust genes, are the most at risk—often forced to forgo the medical tests or visits with a specialist they need due to prohibitive costs. Those who depend on Medicare for their health needs would have their very lives placed in jeopardy. And so many older women do. According to the Commonwealth Fund, 77% of elderly Medicare-Medicaid enrollees are women; of those aged 85 and older, 84% are women. How are these women going to fill their prescriptions or get yearly mammograms without government support?
Senator McCain's other proposal for solving the Social Security calamity would be privatization, an idea that doesn't sit well with older swing voters who are watching the Dow drop faster than it has since they were just babies. It seems unwise, even unethical, to hitch the welfare of our most vulnerable Americans on a volatile market. McCain has claimed that privatization would be optional and open to younger people, not a mandatory shift for older Americans. Even so, do grandmothers struggling to make ends meet really want to see their granddaughters investing their economic future in an unpredictable and unreliable marketplace? That's not a safety net; it's Russian roulette.
Although Senator Obama strongly opposes privatizing Social Security, first addressed in his 2005 National Press Club speech devoted to the topic, he has been less vocal in recent days. He invokes his own mother's twin struggles with cancer and her health insurance company quite often, but has yet to lay out a comprehensive plan for the basic health and welfare of the aging population of this debt-ridden and demoralized country. Much of the Obama-Biden plan focuses on workplace pensions and incentives for retirement savings. As for Social Security, the most concrete reform he proposes is requiring those who earn over $250,000 to contribute two to four percent more to the program: not exactly a magic bullet.
Senators McCain and Obama have 22 days to reassure older, undecided women voters about the merits of their plans for Social Security. They would be wise to take this challenge seriously; according to the Institute for Women's Policy Research, women are much more worried than men about the possibility of reductions in their Social Security retirement income. And women's concerns about retirement are similar across race and ethnicity as well as levels of educational attainment.
As they should be. We are facing the perfect storm of economic insecurity as the baby boomer generation ages into retirement, markets crash, and a profound national debt built up over years of irresponsible management threatens to obliterate Social Security as we know it. It's beyond time that the candidates prioritized and proposed a sound solution for our shared insecurity.