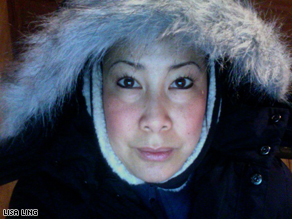 Editor's note: CNN's award-winning Planet in Peril returns this year to examine the conflict between growing populations and natural resources. Anderson Cooper, Dr. Sanjay Gupta, and Lisa Ling travel to the front lines of this worldwide battle. Ling has been a co-host of The View, correspondent for The Oprah Winfrey Show, National Geographic and Channel One. She filed this blog from Alaska
Lisa Ling
AC360° Special Correspondent
Arrived in Anchorage, Alaska yesterday. The burning question I had for everyone I encountered was what people really thought of Governor Palin. But since that question is not germane to the reason why I'm here, I shall refrain from writing about what those conversations entailed.
Almost immediately upon arrival, we set off to interview the General Manager of Shell operations in Alaska. He stressed the vital importance of drilling off shore in the Alaskan Arctic, as it is potentially a source that could reduce our reliance upon foreign oil. When I asked him if the result would be a temporary one, he said, " we can't know until we're actually allowed to drill."
He was referring to a pending lawsuit between local Inupiat communities and environmental groups who charge that among other things, that seismic activity produced by Shell's measurement attempts could affect migrations patterns of bowhead whales. This is significant because bowhead whales are the main source of food for the Inupiat population that has relied on it for centuries.
The oil rich, North Slope of Alaska is sparsely populated, but seeped in tradition. Bowhead whales are an intimate part of the region's indigenous culture. The bulk of its $98 million dollar budget comes from taxing its onshore oil operations. To travel from Anchorage to Barrow—the northernmost city to which airplanes fly—we had to make two stops in other cites. The flight was filled with rugged looking oil workers who spend about two weeks per month laboring in the most challenging conditions. The potentially abundant oil reserve has Americans chomping at the bit to drill to alleviate our reliance on foreign oil.
We finally landed in a place so remote and cold my Blackberry service ceased to function upon arrival in Barrow. I was outside for 3 minutes before my hands lost all color and turned green. My crew immediately rushed to the only store in town where the little California girl had to stock up on much warmer gear. Pathetic I know.
To say this is rough terrain would be to grossly understate how challenging it is. Shell has made a huge investment and is banking on the fact that the off shore potential will pay off huge. If they are able to finally drill here, it won't be without a much longer fight.