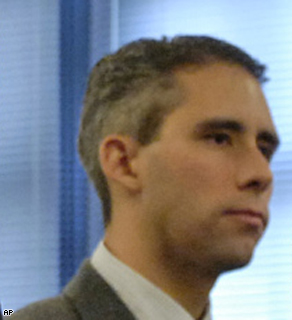 Obama and bin Laden 'both have friends that bombed the Pentagon,' Virginia GOP chairman Jeffrey Frederick told volunteers.
Tim Craig
The Washington Post
The chairman of the Virginia Republican Party has compared Democratic presidential nominee Barack Obama to Osama bin Laden because of the Illinois senator's past association with Bill Ayers, who has confessed to domestic bombings as a member of the Vietnam War-era Weather Underground.
Virginia Democrats, and some Republicans, are outraged, saying these are the latest in a series of inflammatory statements that the GOP has made against Obama in Virginia, a state that has emerged as a crucial battleground in the election.
According to a report in this week's Time magazine, the Virginia party chairman, Del. Jeffrey M. Frederick (R-Prince William), told Virginia volunteers working for GOP nominee John McCain that Obama and bin Laden "both have friends that bombed the Pentagon."
"That is scary," Frederick said while providing talking points to GOP volunteers in western Prince William County as they prepared for a door-to-door canvass.
Several McCain surrogates have blasted Obama for his association with Ayers, but few, if any, have invoked bin Laden.
Yesterday, Frederick said he stood by the comparison, even though bin Laden planned the Sept. 11, 2001, attack on the Pentagon that killed 184 people and Obama was a child and hadn't met Ayers when the Weather Underground planted a bomb at the Pentagon in 1972. No one was hurt in that blast, in which a bomb exploded in a restroom and caused flooding and damage to computer tapes containing classified information.