_____________________________________________________________________________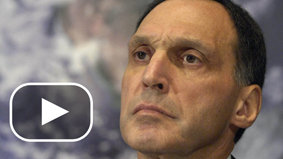 AC360's ongoing report on culprits of the collapse. CNN's Joe Johns reports on Lehman Brothers' Richard Fuld.
Chuck Hadad
AC360° Producer
When assessing Richard Fuld, former CEO of the now bankrupt Lehman Brothers, one Wall Street watcher put it bluntly: "Either he should have known that the company was in difficult circumstances or if he did know and didn't tell, it creates another problem. On the one hand he is either a liar or else on the other hand, he is stupid." That from Sean Egan of Egan-Jones Ratings, who evaluates companies like Lehman for investors.
Fuld was at the helm of Lehman Brothers as it raked in record profits during the housing bubble and then last month filed the largest bankruptcy in U.S. history. Lehman's startling demise helped touch off a panic in the financial industry that is still rocking the markets and the economy today.
A 158-year-old firm like Lehman going under sure sent a signal that no one was untouchable. The government mulled over stepping in to save the company but ultimately decided Lehman was too flawed to rescue.
The attacks on Fuld are, like our national debt, growing by the second. In a scathing Congressional question and answer session last week, Fuld denied the charge that he purposely misled the public about Lehman's problems.
Amazingly, no one on Wall Street seemed to fully grasp the dimensions of a global crisis. The warning signs were there, with a weakening real estate market and deteriorating credit market . And while some competitors started to ease out of risky mortgage-related investments, Lehman put more money into them.
"Lehman wound up thinking, you know, these people are making a mountain out of a mole hill and if we go in now while everybody's in a state of quasi-panic and buy up a lot of these things, we'll make a lot of money. And it was a bad bet," Joe Nocera, a business columnist for the New York Times, told us.
Fuld maintained in his Congressional testimony that more recently, he sold off mortgage related assets to protect the company, but by then, analysts say, it was too late.
If there was a bigger culprit, it was Wall Street greed.
"Lehman Brothers is a symbol of everything that everybody on Wall Street did wrong," Nocera said. "Everybody lost their head, everybody forgot that housing values couldn't rise at two to three times their normal - everybody just forgot the sort of basic realities and truths of the market. Is Lehman a lesson we shouldn't forget? Yeah, of course it is, but I can guarantee you 50 years from now, we'll have another panic and another crisis, and this is just basic human nature."