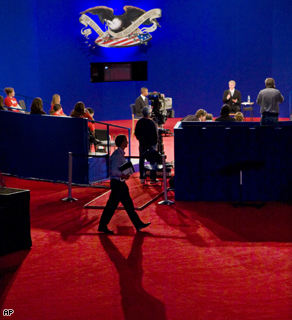 A stagehand casts a long shadow during a rehearsal for the presidential debate.
Ed Henry
White House Correspondent
Obama supporters seem to be pushing this line that McCain will go on attack tonight but two McCain aides here in Nashville insist that will not be the case.
Basically McCain aides saying firmly they realize such a strategy would backfire big time in a town-hall setting. They note McCain had pushed for a whole series of "civilized" town halls with Obama, and it would now be "hypocritical" to go nuclear in that very same setting.
Instead, McCain's final two hours of debate prep today focused hard on highlighting sharp policy differences with Obama on taxes, health care, other pocketbook issues.
McCain aides say there are basically two narratives - one on the campaign trail where they are "taking the gloves off" as they rally the base and try to raise doubts about Obama – and not surprisingly, they say there's a second narrative in the last two debates as they try to target undecided voters.