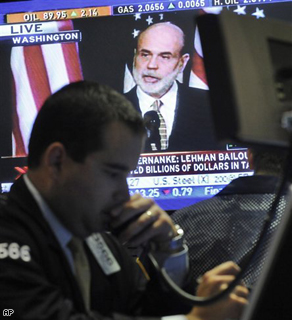 Fed Chairman Ben Bernanke on a television screen on the New York Stock Exchange trading floor.
David M. Walker
President and CEO of the Peter G. Peterson Foundation
The Emergency Economic Stabilization Act contains plenty to make lawmakers on the left and right shudder. On the right, it's the apparent abandonment of free-market principles. On the left, it's the absence of punishment for high-flying Wall Street CEO's.
Looking down the middle, what I found downright unnerving was how hard Washington struggled to pass a bill that, in reality, represents less than 1 percent of our current federal financial hole.
Don't get me wrong. Congress and the Bush Administration are to be commended for acting to relieve the credit crunch and trying to minimize any immediate, adverse effect on our economy and by consequence, on American jobs and access to credit.
The ultimate cost of the act should ring up at less than $500 billion, less than the advertised $700 billion because of anticipated proceeds from the government's sale of the assets it will acquire with the appropriated funds.
The nation's real tab, on the other hand, amounted to $53 trillion as of the end of the last fiscal year. That was the sum of our public debt; accrued civilian and military retirement benefits; unfunded, promised Social Security and Medicare benefits; and other financial obligations - all according to the government's most recent financial statement of September 30, 2007.
The rescue package and other bailout efforts for Fannie Mae, Freddie Mac, AIG and the auto industry, escalating operating deficits, compounding interest and other factors are likely to boost the tab to $56 trillion or more by the end of this calendar year.
With numbers and trends like this, you might ask, "Who will bail out America?" The answer is, no one but us!
Since we're going to have to save ourselves, recent events could hardly be called encouraging. It took an additional $100 billion in incentives - some would call them "sweeteners;" others might call them bribes - to get lawmakers to pass the rescue package. Regardless of what you call these incentives, ultimately the taxpayers will have to pick up the tab, with interest.
Editor's Note: David M. Walker served as comptroller general of the United States and head of the Government Accountability Office (GAO) from 1998 to 2008. He is now president and CEO of the Peter G. Peterson Foundation.