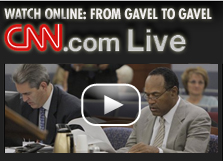 Editor's Note:
O.J. Simpson is on trial for robbery and kidnapping charges nearly a year after police arrested him in Las Vegas, Nevada. Prosecutors say Simpson and five other men stormed into a Las Vegas hotel room last September 13 to recover sports memorabilia that Simpson said belonged to him. They say at least two men with Simpson had guns as they robbed two sports memorabilia dealers. The following dispatches come from our Paul Vercammen covering the trial.
--------------------------–
Paul Vercammen
CNN Senior Producer
O.J. Simpson ambled into the Clark County Regional Justice Center, cup of coffee in hand, for what could be another bruising day of testimony.
Charles Cashmore, a minor character in the alleged armed robbery and kidnapping, will finish testifying this morning
But waiting their turn in the trial, two potentially explosive witnesses, Michael McClinton and Alfred Beardsley.
Several players in the case have testified McClinton pointed a gun at sports memorabilia dealers during the Palace Station Hotel Room sting.
Beardsley is one of the alleged victims, but says Simpson is innocent.
Alfred Bearsley is sitting in the Clark County Detention Center waiting to walk across the street to testify in the O.J. Simpson robbery and kidnapping trial.
Beardsley considers himself to be a friend Simpson's despite being an alleged victim in a complex case.
"Al wants to help Simpson," his lawyer Jack Neil Swickard told CNN.
"And he thinks his testimony will help O.J."
But the prosecution is going to call Beardsley and bring up the fact that the Simpson fan and memorabilia collector told police right after the incident - "we just got robbed by O.J. Simpson."
Beardsley has since said he is no victim of anything by Simpson, despite testimony that he was screamed at and a gun was brandished as the Simpson entourage took sports memorabilia from the room.
Beardsley and the middleman in the sting, collectibles dealer Tom Riccio, are bitter rivals.
Beardsley's lawyer explained how his client wound up back in prison.
"The parole board found that Beardsley violated terms of his parole because he tried to contact Riccio through a third party," Swickard said.
Beardsley has a prior conviction in California for stalking.
Beardsley was transferred from a prison in Chino, California to Las Vegas, where his attorney believes he will stay until a verdict is reached.
In this strange case, Bearsley the once labeled victim who says he is no victim, wants to hear the jury say Simpson is not guilty.
The sideshow continues.