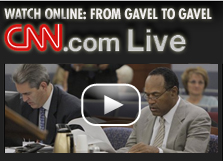 Editor's Note:
O.J. Simpson is on trial for robbery and kidnapping charges nearly a year after police arrested him in Las Vegas, Nevada. Prosecutors say Simpson and five other men stormed into a Las Vegas hotel room last September 13 to recover sports memorabilia that Simpson said belonged to him. They say at least two men with Simpson had guns as they robbed two sports memorabilia dealers. The following dispatches come from our Paul Vercammen covering the trial.
--------------------------–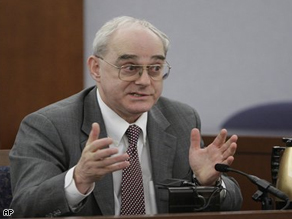 Paul Vercammen
CNN Senior Producer
8:48a PT
Judge Jackie Glass ruled a lawyer for the Goldman estate will not testify for the prosecution in the O.J. Simpson case. (Get background info on David Cook)
Glass called Goldman lawyer David Cook's relevance "marginal."
Glass added the Cook's testimony's prejudice against Simpson would "outweigh the probative value" of having the lawyer testify.
Cook was waiting in a nearby witness room and grabbed his roller bag of legal documents after his dismissal and headed toward the elevator.
"The judge made a ruling and if you read between the lines, I think she thought my appearance would bring up the Ghost of Christmas Past," Cook told CNN.
"If I testified, I could be reading the Manhattan phone book, and it would roll in images of Ron Goldman, Nicole Brown and Fred Goldman."
Cook's job is to try to find assets and obtain payment to the Goldman family from Simpson, as part of the 33 million dollar civil judgment the Goldman's won for the wrongful death of Ron Goldman.
Throughout the current armed robbery and kidnapping trial in Las Vegas, witnesses have testified about stolen or hidden caches of Simpson memorabilia.
"If O.J. Simpson thinks he is going to rent a U-Haul truck and drive off from here he is wrong," Cook said.
"None of this stuff is leaving Las Vegas, even if that means I have to get it from someone else."
Cook was alluding to tens of thousands of dollars of 5impson sports memorabilia that was in the hands of sports memorabilia dealer Bruce Fromong among others.

8:25a PT
Judge Glass ruled prosecution witness David Cook will not be permitted to testify in the O.J. Simpson Trial. Cook is an attorney representing Fred Goldman, father of murder victim Ron Goldman.
7:48a PT
O.J. Simpson entered the courthouse this morning not knowing if a lawyer for the Goldman family estate will take the stand in the armed robbery and kidnapping trial.
The defense is "strenuously objecting" to the testimony from lawyer David Cook, who doggedly chases Simpson's assets.
Cook pursues Simpson's assets to get payment of the 33 Million Dollar, civil judgment against Simpson for the wrongful death of Ron Goldman.