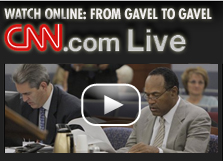 Editor's Note:
O.J. Simpson is on trial for robbery and kidnapping charges nearly a year after police arrested him in Las Vegas, Nevada. Prosecutors say Simpson and five other men stormed into a Las Vegas hotel room last September 13 to recover sports memorabilia that Simpson said belonged to him. They say at least two men with Simpson had guns as they robbed two sports memorabilia dealers. The following dispatches come from our Paul Vercammen covering the trial.
--------------------------–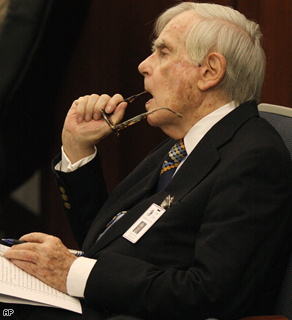 Author Dominick Dunne observing the O.J. Simpson's trial in Las Vegas last week. Dunne was taken to Las Vegas hospital today after complaining of pain
Paul Vercammen
CNN Senior Producer
Vanity Fair writer Dominick Dunne was taken to Valley Hospital in Las Vegas shortly after complaining of pain.
Dunne was sitting in court listening to testimony in the O.J. Simpson kidnapping and armed robbery trial.
Just before 10 this morning Dunne grabbed me and said "I am in a lot of pain. Lot of pain," he then motioned toward an area below his belt.
"I want to go back to my hotel."
Dunne, who is battling bladder cancer, looked ashen as he gingerly left the courtroom.
Court marshals called paramedics and Dunne was taken to the hospital.
UPADTE:
"I'm okay, I am doing fine under the circumstances," Dunne said from the hospital just before 11am PT.
"But this probably means that I will have to go back to New York in the next few days." Dunne said against doctor's orders, he flew to Las Vegas to cover the O.J. Simpson trial.
When testimony began last week Dunne told fellow journalists and writers it was great to be back working after his "difficult summer," alluding to his bladder cancer.