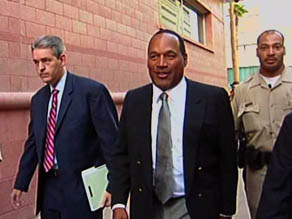 O.J. Simpson arrives for the first day of jury selection
Editor's Note: You can read more Lisa Bloom blogs on "In Session"
Lisa Bloom
AC360° Contributor
In Session Anchor
O.J. Simpson walked out of court a free man after acquittals in his 1995 double murder trial and his 2001 Florida road rage case. Today jury selection begins in his Las Vegas robbery trial, where he faces a maximum of life in prison if convicted. Will he be 3-0?
Based on what we know now, it's going to be a close call. The prosecution case is built on the testimony of a colorful band of O.J. cronies, including a stalker, an arsonist, a thief, and an alleged pimp. Notice that I have to say "alleged" only as to the maybe-pimp. The stalker also has a criminal history that includes receiving stolen property, assault and battery, and he'll be hauled in from prison to testify. And he is one of the two alleged victims.
This caper may be the most-taped alleged crime in history. There are three secret audiotapes of the planning of the caper, a tape of the incident itself (sold immediately to TMZ.com for over $100,000, reportedly), recordings of phone messages after the incident, and a surreptitious audio recording of OJ and one of the co-conspirators at a bar that night. Even the "You Ring We Spring" bail bondsman had the presence of mind to stick a recorder in his pocket and capture O.J.'s words as he transported him. O.J. Simpson should buy stock in Radio Shack.