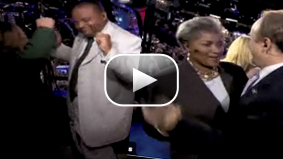 CNNs Jeanne Moos encourages you to analyze the dance moves of poltical pundits at the Democratic National Convention
Kay Jones
AC360° Editorial Producer
We've been working hard this week at the DNC, but with work comes a time to let loose. Roland Martin and Donna Brazile did the best job, dancing in the middle of the CNN Grill long after they went off the air. Since we didn't have a camera able to tape it, you should check out Jeanne Moos' report on all the convention dancing. You will get a good idea of what went down here last night.
It was a really interesting mix of people here, from Colorado Governor Bill Ritter's sons, August and Abe, to Ashley Judd, Jamie Foxx and Days of Our Lives' own Deidre Hall. Time's Karen Tumulty, ABC's Kate Snow, EXTRA's Carlos Diaz and our own Campbell Brown, Wolf Blitzer and Anderson Cooper were spotted at various times throughout the night chatting up the various guests here. Speaker Nancy Pelosi made her way in for an interview and her staff wanted to come back. She, unfortunately, couldn't make it due to other commitments. But Rep. Gary Ackerman of New York did make it, and he and his wife really enjoyed dinner as well as the atmosphere.
Once again, the crowd fell silent during the big speeches of the night, cheering as if they were inside the arena during both Pres. Clinton's speech and Sen. Biden's acceptance speech. The loudest roar from both inside and the patio area came when Sen. Obama joined Sen. Biden on stage.
Tonight is the final night of the Democratic convention, and with Sen. Obama's speech on the horizon, we are gearing up for a great night on CNN as well as at the CNN Grill.