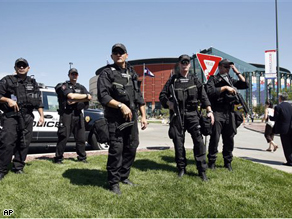 Policemen prepare to guard the front entrance to the Pepsi Center, site of this week's Democratic National Convention, before a protest march Sunday, in Denver.
Justine Redman
CNN Producer
In the wee hours last night (it was a long one here at the CNN Grill) photographer Emmanuel Tambakakis and I saw the police setting up more fences and more tents and metal detectors for admitting people into the convention center area. We'd spent the last two days reporting with Joe Johns on the security set up here in Denver, on how people were waiting up to an hour and a half to clear security, and how a pretty small and quiet protest had actually caused the whole security entrance to be closed down for a while yesterday, causing a decent amount of chaos for people needing to get in and out of the convention center. So we took note that the authorities were recognizing the problems with their set up and trying to fix it. None of us wants to spend hours standing in line when there's news we need to get to.
Two hours later, at 4:30 in the morning, I was back with Joe, in a hurry, needing to get to our satellite truck to file our story to New York. This time, I admit, I was cursing the upgraded security under my breath. Actually some of it might have been more over than under... We'd walked the long walk from the parking lot to the security entrance, with all our heavy bags. Everything was going fine until we got a few yards away from the gate and were told we couldn't get through that way anymore, and we'd have to backtrack what seemed like about a mile. That was when I thrust all my bags on Joe Johns and started running, worried about getting to the truck in time for the satellite window we had booked. I'm no runner, but I made it... less than pleased about my early morning sprint.
But that's how it is here. The Denver police we've spoken with pride themselves on adapting to the convention security situation as necessary, and we've seen several examples of them doing so. One of the effects of that, though, is that for people trying to get around, you just never know what to expect. Routes change, access changes, and you never know how long you'll have to wait. We spent a lot of today at a political demonstration in downtown Denver, organized by a group called Recreate '68...They went on a march across town, which they didn't have a permit for. We wondered if there'd be any attempt by the police to prevent them marching on the sidewalk, but there wasn't.
Police in riot gear went along on the parade, in a formation that seemed to be trying to stop the march from spilling off the sidewalk into the traffic on the streets, but there was never any attempt to get in their way. The demonstration was loud, and it caused a lot of traffic to back up, but it stayed peaceful. Both protestors and police seemed to be able to do their thing the way they wanted. The only people who seemed unhappy were some of the people on the streets having their day disrupted as they tried to get around town.