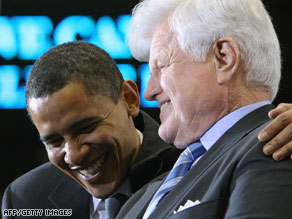 Sen. Edward Kennedy will appear tonight at the Democratic National Convention.
Maureen Miller
AC360° Writer
It's the opening night of the Democratic National Convention. You could say this is like an opening night on Broadway. The stage (Denver's Pepsi Center) is set. The "stars" (the politicians) are ready to shine. And, the audience (the delegates) are ready to clap and cheer. We'd love to know: what do you want to see out of this 4-day political extravaganza? Got any expectations?
Tonight, the big buzz is over Senator Ted Kennedy. He's making a surprise appearance in Denver on this the first night of the convention. The Massachusetts senator will watch a video in his honor, and may speak to the delegates if he feels up to it. This will be only the second time he has been seen in public since brain surgery in June.
The night also belongs to Michelle Obama, as she delivers her biggest speech ever in prime-time. She's expected to focus on family and values. Barack Obama will be watching from Kansas City and will address the crowd via satellite after his wife's speech.
Democrats start this convention with Barack Obama in a dead heat with John McCain. The latest CNN/Opinion Research Corporation poll shows the race tied at 47 percent each. It's the first poll since the Obama picked Joe Biden as his running mate. "This looks like a step backward for Obama, who had a 51 to 44 percent advantage last month," said CNN Polling Director Keating Holland. Do you agree?
With the tight race as a backdrop, the DNC has a lineup of heavy hitters who will take the stage tonight to praise Obama and likely tear into John McCain. Here's tonight's list of speakers:
Democratic National Convention Podium Schedule
Monday, August 25, 2008
Today's Theme: "One Nation"
7:00 PM – 9:00 PM (Denver, Colorado MST)
Remarks
The Honorable Jesse Jackson, Jr.
Member of the US House of Representatives, Illinois
Mike Fisher & Cheryl Fisher – Beech Grove, Indiana
Mike – Amtrak tech & Cheryl – hospital tech (hosted Obama for lunch)
Tom Balanoff
President, SEIU Local 1 (Chicago)
Senator Edward M. Kennedy Tribute
Caroline Kennedy Schlossberg
Daughter of the late President John F. Kennedy and Jackie Kennedy
Video – Edward M. Kennedy Video
Remarks
The Honorable Miguel Del Valle
City Clerk of Chicago, Illinois
Candi Schmieder
Delegate Chair, Iowa County Convention
Jerry Kellman
Hired & supervised Obama at Developing Communities Project – Chicago, Illinois
Introduction of Jim Leach by
The Honorable Tom Harkin
US Senator, Iowa
The Honorable Jim Leach
Former Republican Member of the US House of Representatives, 1st District, Iowa
Introduction of Claire McCaskill by
Austin Esposito
Son of Senator McCaskill
The Honorable Claire McCaskill
U.S. Senator, Missouri
Video – Michelle Obama Package
Introduction to the Michelle Obama Package
Craig Robinson
Older brother of Michelle Obama
Remarks
Michelle Obama
Wife of Presidential Candidate Barack Obama
Benediction
Don Miller -Portland, Oregon
Best-selling author & public speaker focusing on Christian spirituality
Recess
The Honorable Kathleen Sebelius
Governor of Kansas
It's going to be a busy night.
Keep it locked on CNN.
We'll be bringing it all to you live from Denver.