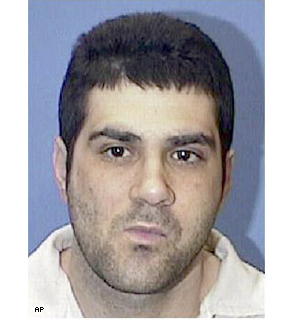 Cameron Willingham, convicted of capital murder and sentenced to death, was executed on Tuesday, Feb. 17, 2004.
Gabriel Falcon
AC360° Writer
Before the lethal drugs poured into his vein, stopping his heart and ending his life, Cameron Todd Willingham gave a last statement from the Texas death chamber. This is what inmate # 999041 said:  
"The only statement I want to make is that I am an innocent man – convicted of a crime I did not commit. I have been persecuted for 12 years for something I did not do. From God's dust I came and to dust I will return – so the earth shall become my throne. I gotta go, road dog. I love you Gabby."
Willingham was executed on February 17, 2004. More than four-years later, state investigators will decide if an innocent man was put to death. The Texas Forensic Science Commission has agreed to review the case  because key evidence has been called into question.
Willingham was convicted of murdering his three young daughters. Prosecutors said he intentionally set fire to their home. A jury agreed.
Now, more than four years after the execution, the forensic testing that the prosecution used to argue it was arson has been called mistaken.
A panel commissioned by the Innocence Project determined that an incendiary agent was not used, concluding that in all likelihood the fire was accidental.
The state said  justice was served.  Now many wonder if that was just an injustice.