David M. Reisner
AC360° Digital Producer
I dont know if you caught the opening ceremonies of the Olympics on Friday but they were spectacular! Maybe a bit too much.
According to several reports the 'Twenty-nine fiery footsteps' traced in the air above Bird's Nest National Stadium were created using real fireworks... But The U.K.'s Telegraph reports that because event organizers feared they would be unable to capture the pyrotechnics live on camera, a digital effects team spent almost a year preparing a computerized version of the 55-second footstep sequence, which was inserted into the live video feed. So in truth, what people saw in the stadium and what people saw on T.V. didnt quite match up... (Read more here – see image of the footprint firework)
OK fine, I love my computer grahpics, I guess I can look past that... but another part of the opening ceremony left me speechless... (pun intended)
A little girl sang a beautiful Chinese patriotic song as fireworks lit the sky above her... Except she didnt sing it live... Actually, she did'nt even sing it at all! Read this report from Richard Spencer of 'The Daily Telegraph:'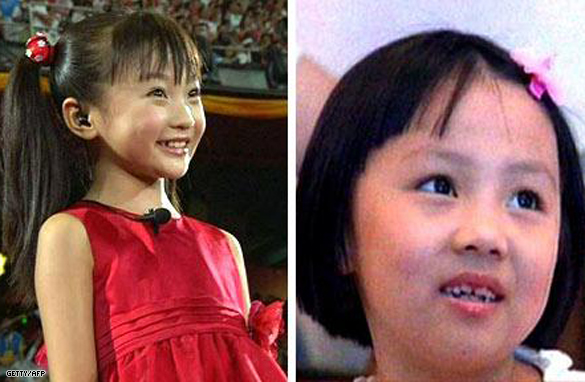 Lin Miaoke who lip-synched at the opening ceremony over the voice of Yang Peiyi [right] who was considered unsuited to the lead role because of her teeth.
Richard Spencer
The Daily Telegraph
China Correspondent
The girl in the red dress with the pigtails, called Lin Miaoke, 9, and from a Beijing primary school, has become a national sensation since Friday night, giving interviews to all the most popular newspapers.
But the show's musical designer felt forced to set the record straight. He gave an interview to Beijing radio saying the real singer was a seven-year-old girl who had won a gruelling competition to perform the anthem, a patriotic song called "Hymn to the Motherland".
At the last moment a member of the Chinese politburo who was watching a rehearsal pronounced that the winner, a girl called Yang Peiyi, might have a perfect voice but was unsuited to the lead role because of her buck teeth.
So, on the night, while a pre-recording of Yang Peiyi singing was played, Lin Miaoke, who has already featured in television advertisements, was seen but not heard.
"This was a last-minute question, a choice we had to make," the ceremony's musical designer, Chen Qigang, said.