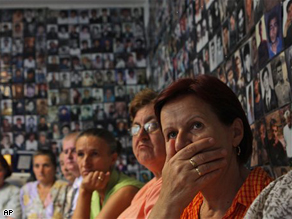 Survivors of the Srebrenica massacre react while listening to news about former Bosnian Serb leader Radovan Karadzic during his appearance at the U.N.'s war crimes tribunal.
Alessio Vinci
CNN Correspondent
Editor's note: Alessio has returned to Sarajevo more than a decade after the Balkans war to gauge the reaction to the first day in the war crimes of trial former Serb leader Radovan Karadzic. Here's what he found:
It's an amazing feeling to return to a city I remember ravaged by war, and realize it has transformed itself into a vibrant, even cosmopolitan center.
Sure, you don't have to look far to find the old scars of war, but the city center and much of its surrounding areas have been rebuilt.
The sad part starts when you talk to people, and realize that the cosmetic changes are, well, just a facade, a desire to hide grief, pain and a sense of anger.
Grief because there are more graveyards and cemeteries than coffee shops (and there are plenty). Pain because when a sniper kills a 2-year-old son there is no amount of forgiveness that could alleviate the suffering.
And anger for not having arrested Karadzic earlier. Anger because this trial will bring back memories people didn't want to forget but were quite pleased to store in the back of their minds.
Then, as the day progressed, and Karadzic appeared in court, that anger was replaced with curiosity - how does he look like 13 years later, and what about that funny white long beard he sported to disguise himself?
That didn't last long... "Why does the judge keep calling him mister?" said one, "when in fact he is a monster?"