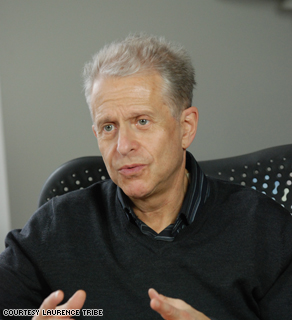 Editor's Note: Harvard Law School Professor Laurence Tribe is one of the United States' preeminent constitutional scholars. An informal advisor to Senator Barack Obama's presidential campaign, he is one of the presumptive Democratic nominee's most ardent supporters. The liberal legal icon talks with AC360's Jack Gray about the impact the next president will have on The Supreme Court, the possibility of Roe v. Wade being overturned and why Barack Obama is the most amazing student he ever taught.
Q. The economy, two wars, an energy crisis … are legal and judicial issues as important in this election?
A. I think they're enormously important because they set the framework within which everything else is addressed. If we believe in democracy and the rule of law then an administration that is casual or reckless about the framework of the constitution simply can't be trusted with either war or peace. So I think that although bread and butter issues of gas prices and home foreclosures are going to dominate individual consciousness, at some level people have to remember that it is our legal system and our political structure that defines our greatness as a nation and that projects our presence onto the world stage and indirectly accounts for our safety and security. If we don't stand for a fundamental set of legal values abroad we will have an impossible time in the battle of ideas that constitutes the war on terrorism.
Q. There was a Politico article earlier this month that basically said Senator McCain has been mentioning judicial issues much more than Senator Obama and, in fact, Senator Obama doesn't mention judicial nominations in his stump speech and doesn't go out of his way to mention upholding Roe v. Wade. Is that simply general election politics? You have to stay near the center when it comes to hot button issues like The Supreme Court and abortion?
A. No, I think the reasons are at least as substantive as they are political. I think everyone knows that The Supreme Court is closely divided and the earliest resignations in the next presidential term are almost certain to be resignations among the justices who are in the center or the left of the Court. It is the right wing of the Court that is the youngest and so it is not likely that Senator Obama would change the Court's trajectory. He would at most be replacing moderates and progressives with other justices of a moderate and progressive orientation…and because Senator McCain seems to have no clear strategy either for the economy or for the foreign policy of the United States, he is trying to hold on to his right wing base by throwing red meat to some Republicans by saying "vote for me and we will roll back reproductive freedom, we will have more Scalias and Thomases on the Court." That's really the centerpiece of his appeal. And from time to time and certainly during at least one of the national presidential debates, Senator Obama will have occasion to remind people that if they believe in and take for granted certain elements of reproductive freedom or personal liberty then it would be dangerous to vote for Senator McCain.
Q. If Senator McCain wins, do you believe Roe v. Wade will be overturned?
A. I do. I think Roe v. Wade, whether it's overturned expressly or rendered a hollow shell, will cease to provide within a relatively short period any meaningful protection for the reproductive freedom of women. It will then be up to the states and in a number of states there will be severe restrictions on abortion. In other states abortion will be left to the choice of women and their doctors but women who are relatively poor or who are not as mobile will often resort to illegal or dangerous abortions. I think that Senator McCain's America is going to be one in which abortion - rather than being safe, legal and rare - will be unsafe, in many states illegal, and really not much rarer than it is today. It's going to be a profound and retrograde change. It won't happen overnight, but as soon as Justice Stevens who - though vigorous, is going to be 89 before too long - leaves the Court, a replacement by Senator McCain, even with a strongly Democratic senate, is bound to be someone who will vote to reduce Roe v. Wade to shreds.
Q. You mentioned the right wing base. Voters in the center - the ones that inevitably decide these elections - do they vote on Supreme Court picks or is it more the base conservatives and base liberals who pay more attention to these matters?
A. I think it's very rarely been a decisive voting issue for many people, although there are certainly many people in the hard right who are primarily interested in a president who will pick justices who will help overturn Roe v. Wade and break down the barriers between church and state. Liberals and progressives and people in the center tend to have more immediate and practical concerns but some of the people, in particular in Hillary Clinton's base, who might otherwise be tempted not to vote at all or to vote for Senator McCain will end up remembering what a McCain Court could do to some of the rights and values that they take for granted and may be motivated by that to go to the polls.
Q. You had Senator Obama as a student (at Harvard Law School). I think I read somewhere – correct me if I'm wrong – you said he was the best student you ever had?
A. He was the most amazing student I ever had. I said he was the most impressive and the most amazing. You know, a word like "best" I think is a little misleading because it's hard to compare the brilliance of several very brilliant people. But what was special about Barack Obama is that he didn't just write an amazing "A" exam and he wasn't simply the best research assistant that I had in many years, but he was also unusually mature. He had an unusually powerful vision of public service. He was all around the most impressive student in the perhaps in the perhaps 30,000 that I've taught in nearly 40 years.
Q. Did you think – he graduated in 1991 – that 17 years later he would perhaps be president?
A. Well, nobody has a crystal ball, but I certainly said to my wife that I may have met - in one of my students - someone who could become President of the United States. I was amazed by his talent, by his maturity, by his acumen, by his perceptiveness, by his judgment and by his charisma. I don't think I had great confidence in a prediction like that because I've never made it about anyone else and I had no way of knowing that I might have been on target. But it has never surprised me that his trajectory knows no bounds.
Q. You've compared him to President Kennedy.
A. I think he potentially will be at least as good a president as President Kennedy. And it was when President Kennedy was running in the 1960 election when I was a sophomore at Harvard College when I was inspired in a way that I haven't been since until this candidacy.
Q. How often do you talk to him?
A. From time to time. He's so busy now. I'm going to talk to him briefly on August 4th on his birthday, and we communicate by e-mail and in ways that don't take up his time.
Q. He's taking some flack – particularly in an article in Wednesday's edition of The Washington Post – for appearing, some are saying, presumptuous, perhaps a bit too presidential as if he already has the election locked up. I'm assuming you disagree with that characterization, but if politics is perception then he's got to be careful, right?
A. He is about as humble as you can be when you've gone as far as he has as fast as he has. He very often repeats that we have only one president at a time and that he doesn't want to upstage the President of the United States. But there is an intellectual and moral vacuum in The White House and it's not his fault that other people want him to fill it.