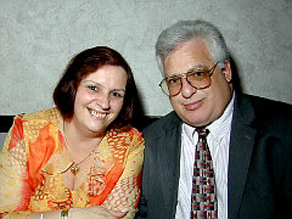 Mark Schwartz and Christina Petrowski-Schwartz
Maureen Miller
AC360° Writer
A crime story here in New York has the city buzzing. Who killed a prominent divorce lawyer and his mediator wife?
Here's what we know. The couple, Mark Schwartz and Christina Petrowski-Schwartz, were found in their bedroom about a week ago, shot in their heads at point blank range. Their dog was quiet and tied to a tree in the backyard, leaving some to speculate that the killer was familiar to the husband and wife. This was a double homicide in a peaceful residential neighborhood in Brooklyn known as Marine Park.
In any investigation, detectives always look for a motive. In this case, it may come down to money. Published reports say nearly $200,000 is missing from the couple's escrow account.
No suspect in the deaths has been named. But the attorney for a friend of the murdered husband confirms police have asked to speak to his client, Robert E. Delvicario Jr. He spent time in prison for stealing money from a U.S. Customs Bureau evidence locker in Buffalo while serving as a supervisor there.
Delvicario's attorney, Joseph Mure Jr., tells me he's advising his client to stay quiet. He says there may come a time when they will sit down with police, adding "We'd like to help with the investigation." But for now, Mure says he hopes police conduct a thorough investigation of their own and check the victims' client lists and computers, speak to neighbors and family, and take other steps to find the killer.
Mure told me Delvicario knows nothing about the killings, and is devastated over the murder of his best friend. Mure says Delvicario considered Schwartz his best friend, and knew him for 30 years. He says Schwartz represented Delvicario in several cases over the years. In fact, Mure said, Delvicario had lunch with Schwartz about a month ago, and the two had no problems.
So police have quite an investigation ahead of them.