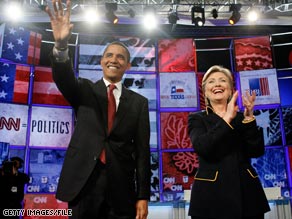 Maureen Miller
AC360° Writer
Just a short time ago, a big money meeting wrapped up between Hillary Clinton and Barack Obama with HER cash supporters.  We have exclusive cell photo photos from inside the meeting at a Washington hotel.  And, we're just getting an audio tape of the high-stakes talks.   We'll bring it all to you tonight on 360.  The two are back together in public for the first time since Clinton dropped out of the race. And, they'll hit the campaign trail tomorrow.  But is it truly a united front?  What are your thoughts?  We'd love to hear from you.
Also tonight, the principal of a  Massachusetts high school speaks out.
Does he still stand behind his message that there was a "pact" by several girls to get pregnant.
We'll also have 360 dispatch from North Korea.  Find out why it may no longer be part of the so-called "axis of evil".   And, an election nightmare in Zimbabwe.   President Robert Mugabe insists the vote will go on tomorrow.  His opponent has dropped out of the race and has taken refuge in the Dutch embassy in Harare.  He dropped out due to political violence, intimidation and harassment.  We feel this is story that has to be told.    
All these stories and more tonight on 360.  Hope you'll join us at 10pm ET.