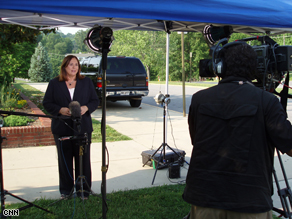 Our favorite Sr. Political Correspondent is finally getting some rest, and Candy Crowley is also getting some much deserved attention. Check out this story from the Boston Herald.
"The 2008 campaign bus has finally careened to a rest stop in the wild ride for reporters covering the Obama-Clinton fight to the finish, and the press – like never before – is pooped.
"Taking a breather after one of the longest primary seasons in modern history, CNN senior political correspondent Candy Crowley says her Washington, D.C., area home looks like an abandoned post office.
"She's been flying around the country, traveling to nearly every state over the past 17 months.
"'It was tremendously grueling,' said Crowley, who would look at Sens. Hillary Clinton (D-New York) and Barack Obama (D-Illinois) at times and think, 'How can you do this?'
"But the adrenaline kept her moving. 'It was just exciting,' Crowley said. 'It wasn't just that it was a close race. It was that no matter what happened it was a historic race.'
"While on the road, the sleep-deprived Crowley would appear on Anderson Cooper at 10 p.m., and rise and shine for early-morning live shots."