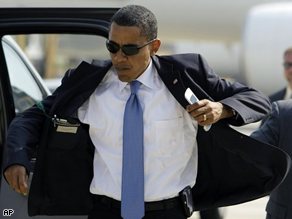 David Gergen
CNN Sr. Political Analyst
Fmr. Presidential Adviser

The fight between Barack Obama and John McCain over the economy is warming up so fast that it almost matches the blistering heat up and down the East Coast. Obama seized the initiative yesterday with his speech in North Carolina, while McCain counter-punched right back today when he spoke in Washington, D.C.
On strict debating points, they seemed to be pretty close to a draw. But the recent spate of bad economic news - from rising unemployment to rising gas prices to rising interest rates in Europe - will almost certainly help Obama. Perhaps that is one reason why he has been edging up in the polls against McCain in the past few days: a week ago, an average of the polls (as reported by RealClearPolitics.com), was 1.4 percent; now it is 4.3. Not a huge jump but enough to take notice.
Even so, there is a growing question of whether Obama should keep on campaigning in the way he is. I was surprised when I learned that he was hitting the road for two weeks to advance his economic views in key states. He was smart in one fundamental sense: he needed to seize the initiative from McCain and he needed to frame the national campaign more fully around the economy and less about Iraq. Both will strengthen him. But does he really need to have two straight weeks of more campaigning?
For one thing, voters almost certainly need a break from the relentless and long primary season. Equally important, Obama and his team need a physical break. And I have a distinct sense that he also needs to take a break intellectually so that he can spend some quiet time assembling and talking with heavy hitters on economic and national security matters.
McCain gave an excellent speech on nuclear weapons policy a couple of weeks ago after conferring with some top notch advisers like George Shultz and Henry Kissinger. Obama's speech yesterday on the economy made some good headlines butif you read the substance, it is a bit of a mish mash. Where are the Bob Rubin's and Larry Summers' who should be sitting down with him and talking through the dramatic changes that are sweeping across the economy?
To be sure, Obama has plenty of work to do this summer. A trip to Europe and the Middle East should very much be on his agenda. So should the assemblage of key campaign teams in swing states. And the selection of a vice president, the recruiting of Hillary Clinton supporters, etc., etc. There is much to be done. But it would be good for everyone if both Obama and McCain also take a long, healthy break before the fall campaign begins in earnest.