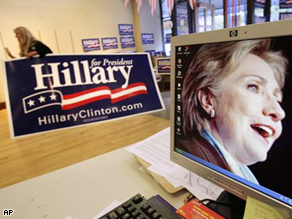 Clinton campaign headquarters in Billings, Montana on June 3, 2008 as polls closed.
Randi Kaye
AC360° Correspondent
You've heard plenty of politics, but how about this one mixing politics with psychology. It's really cool. And it's very personal.
We gathered a group of 8 undecided voters to see how they respond to attack ads and how the ads might affect their choice of candidate. We all met at Emory University in Atlanta, where psychologist Drew Westen studies how voters' brains react to candidates' messages, including attack ads.
Westen says fear-based attack ads are effective because they tap into the voters' subconscious. He predicted voters would tell us they didn't like these ads, and that the ads didn't have any impact on them. Well, guess what. He was right. That is what our group told us. When they watched Hillary Clinton's 3 a-m ad, which was designed to make voters question Obama's experience, they said it did not make them doubt him. But their brain told us something else.
The results show the ads do work. Westen says even though our conscious self doesn't like the ad, our subconscious responds to it. The ad gets deep in there.

How does Westen know this? He and his business partner have developed software that measures voters' subconscious. They do so by measuring their reaction time to certain key words after watching attack ads. The slightest hesitation means the word registered with their subconscious, and the ad worked. They use words like "weak," "inexperienced" and "poor judgment."
I took the test myself. I don't want to reveal the specifics of my results because that's just too personal, but I will tell you I was quite surprised. My conscious and subconscious were at odds which was pretty bizarre. Trust me on that one. Turns out, the ad I was tested on did make me doubt the candidate even though I thought it had zero impact.
Bottom line, it's probably your subconscious - not your views on policy - telling you which lever to pull in the voting booth.
Editor's note: See Randi's report on the psychology of fear tonight on AC360° at 10p ET.