David M. Reisner
360° Digital Producer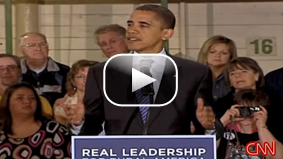 Sen. Barack Obama fires back after President Bush likened talking with Hamas to negotiating with Hitler.
Hey bloggers,
Yesterday we told you about comments President Bush made in a speech to Israel's parliament. The president compared calls to talk with unnamed terrorist groups a 'foolish delusion.' (read more here)
Well today, Obama fired back.
Sen. Barack Obama slammed President Bush for launching "exactly the kind of appalling attack that's divided our country and that alienates us from the world."
Speaking at a campaign stop in Watertown, South Dakota, Obama also lambasted Sen. John McCain for "embracing" the president's "attacks on Democrats," and "suggesting that I wasn't fit to protect this nation that I love."
"So much for civility," Obama said, noting that McCain had talked about the need for civility in politics earlier Thursday.
He went on:

"After almost eight years, I did not think I could be surprised about anything that George Bush says, but I was wrong..."

 

"I have been adamant about not negotiating with Hamas, a terrorist organization that has vowed to destroy Israel and won't recognize them."

"If George Bush and John McCain want to have a debate about protecting the United States of America, that is a debate that I'm happy to have any time, any place, and that is debate I will win because George Bush and John Mccain have a lot to answer for"

"...The president did something that presidents don't do. That is launch a political attack targeted toward the domestic market in front of a foreign
delegation."
So what do you think? I have included a clip of the Sen. Obama's speech…
Please share your thoughts