It's 6:45am and I'm standing at the Little Rock airport in Arkansas, after covering potentially dangerous weather for the past two days. But it's a great respite from the bombs and bullets of Baghdad. I'm usually overseas for the network; recently I've been working here in the U.S.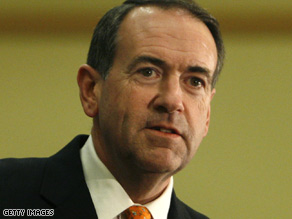 Between the four of us - producer Alex Walker, photojournalist Ric Blackburn, video editor Greg Bowman and I. Apparently, only one of us actually had our eyes open because Alex said, "Hey, it's Mike Huckabee."
We all looked up from our BlackBerries and walking directly towards us was the former U.S. presidential candidate.
Alex was quick to cut him off - introducing himself and then us. At this point, my jaw is on the floor – because Huckabee is just strolling towards security alone. For the past six months, I've been overseas watching this man give speeches in front of thousands with loads of security.
Alex quickly snapped into reporting mode.
"So," he says to Huckabee, "you could be vice president."
Huckabee laughed and answered sarcastically, "Yes, as you can see I'm waiting home by the phone with anticipation."
At one point during the brief conversation Ric flipped on his camera light – joking, "Hold on – let me make you feel like you're at home."
We said goodbye and like the psychotic young reporter I am (maybe just psychotic … leave it for you to decide), I started quietly following Mike Huckabee through the airport.
He reached security and the TSA guard looked at his boarding pass.
"You've been selected for the random security check," he said to the former governor.
Am I in the twilight zone? (I muttered to myself). The guard looked up, asked for his ID – and then realized who it was.
"Oh, did you change your ticket, or book it in the past 24 hours?" he asked sheepishly.
"I changed it," said Huckabee.
"That must be what it is," said the TSA guard.
"Must be," said Huckabee.
So through the random security check went the man who garnered almost 270 delegates. Shoes off and a quick frisk – he made it through.
The next question popped into my mind – where's he going?
So, I followed him some more.
As it turns out - Huckabee was headed to Denver. I would have asked him what he was doing there but I figured - better to leave him wondering if I'm psychotic, than to open my mouth and confirm to him that I am.
– Cal Perry/CNN International Correspondent