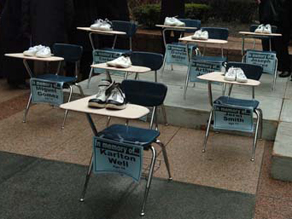 Enough desks to fill a classroom sat empty in a downtown plaza Tuesday, each bearing a pair of sneakers and representing one of 20 Chicago Public Schools students killed by gunfire this school year. (AP)
On Monday morning, March 31, I visited Simeon Career Academy in the wake of another senseless shooting of a teenager. This one took the life of Chavez Clarke, a young man who on March 29 was attending Saturday classes at Simeon to try to work toward graduation. He was gunned down in the school's parking lot shortly after finishing classes.
As I talked with students on Monday, I was struck by their sense of outrage over the prevalence of guns in their lives and by their passion to do something about it. Led by Simeon junior Ronnie Mosley, the school quickly organized 10 busloads of students to attend an anti-violence rally that was being organized for the next day in downtown Chicago by Father Michael Pfleger, the pastor of St. Sabina Church who has been a tireless advocate for stronger gun-control laws.
I can't tell you how uplifting and inspiring it was to see the hundreds of young faces in the crowd that day. They are sick and tired of having their futures hijacked by the gang leaders who are terrorizing our streets and putting illegal guns in the hands of angry and disconnected teenagers. I actually had a young girl tell me that it is her hope that some day she can walk to her corner store without being afraid. That's absolutely heartbreaking. That should not be a hope. That should be a basic right of every child on every street in America.
And I truly believe our students are going to rise up and create a safer and saner future. The social revolution of the 1960s was led by young people, and I see that same passion and energy in the face and hear it in the voice of Ronnie Mosley. He and the thousands of students like him across Chicago and across the country will help bring about real change.
We need to do our part as adults by showing them that we value their futures more than we value the right to bear arms. We need to invest in education and create more programs to help connect them to school, thereby insulating them from the lure of the gangs. We simply need to do a better job as adults of protecting our children.
– Arne Duncan, CEO, Chicago Public Schools