Hey Bloggers!
What's going on? How was your weekend? Dreading the work-week? fear not! Because it's time for 'Beat 360°.'
Everyday we post a picture – and you provide the caption. Our staff will get in on the action too.
Tune in every night at 10p ET to see if you are our favorite! Can you Beat 360°?
Here is today's "Beat 360°" pic of the day: The world's smallest humanoid robot displayed last year in Tokyo, Japan. The 16.5 centimeter robot is able to walk, play the drums and keep its balance (Whatever! Our blog can do all those things and more... ). I'm guessing the little lady (pun intended) next to him is to represent scale – but ill let you decide!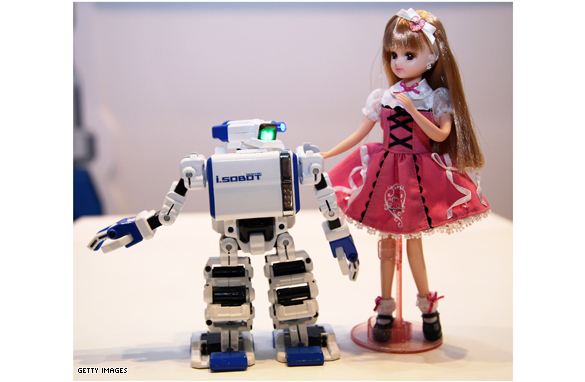 Here's one to get you started:
"No! I think you're great... Really! …It's just that don't date guys under 17 centimeters"

Have fun with it.
Make sure to include your name, city, state (or country) so we can post your comment.
– David Reisner, 360° Digital Producer
Update: Check out our winner!