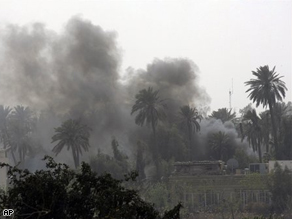 Baghdad, Iraq: Smoke rises from the heavily fortified Green Zone that houses the U.S. embassy and Iraqi government after it was hit by a barrage of mortars
Today during a press conference with the Australian press conference, President Bush underscored the significance of the latest explosion of violence in Iraq by calling it "a defining moment in the history of a free Iraq." The much maligned Iraqi forces desperately need a military success as the lead force, but U.S. troops are being drawn deeper into the conflict.
President Bush also said "any government that presumes to represent the majority of people must confront criminal elements." Yet many believe that the very same group with which the U.S. and Iraq signed a cease-fire  - Shiite leader Muqtada al-Sadr and his Mahdi militia – are such criminal elements. 
But what exactly is - and who defines  - a "criminal element" in a country where it's hard to distinguish between foe and friend from day to day?
What are the consequences if the current burst of fighting spreads beyond the oil-rich city of Basra? Does the intra-fighting among Shiites undermine the Administration's argument that al Qaeda and Sunni extremists represent the greatest threat to stability? Is the potential civil war rising, in the struggle for power among Shiites? What if the Iraqi forces  - with American aid - squash the militias and restore order: Would Iraqi forces finally be able to "stand up" and allow American forces to "stand down?" 
Exactly what's at stake right now? 
– Eric Bloom, 360° Producer