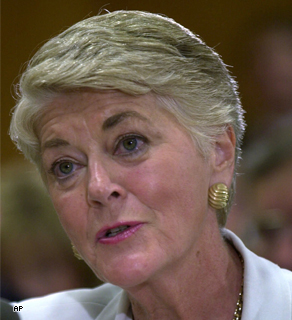 Former Democratic vice presidential candidate and former New York Rep. Geraldine Ferarro is seen on Capitol Hill in Washington in this file photo. Ferraro, a fundraiser for Democratic Presidential hopeful, Sen. Hillary Rodham Clinton, D-N.Y., suggested Sen. Barack Obama only achieved his status in the presidential campaign because he's black. The Obama campaign called on Clinton Tuesday to denounce the comments.
Former Congresswoman Geraldine Ferraro continues to defend her critical remarks about Sen. Barack Obama.
In an interview with the Daily Breeze of Torrance, Calif., she's trying to turn the heat back on her critics.
"Any time anybody does anything that in any way pulls this campaign down and says, 'Let's address reality and the problems we're facing in this world,' you're accused of being racist, so you have to shut up," she said. "Racism works in two different directions. I really think they're attacking me because I'm white. How's that?"
No, you're being attacked, Ms. Ferraro, because your comments are stupid.
What's offensive to any African American who has achieved a measure of success is that whites try to negate it by saying it was because they are black. In her initial comments, she said, as an afterthought, that Obama is doing well because of his message and a good campaign. But she clearly stated that he's successful "in large measure" because he's black.
Well, Rep. Shirley Chisholm was black. And she didn't win in 1992.
Rev. Jesse Jackson Sr. is black. He ran in 1984 and 1988 and he didn't win.
L. Douglas Wilder is black. He briefly ran in 1992 and he didn't win.
Rev. Al Sharpton is black. He ran in 2004 and he didn't win.
Former Illinois Sen. Carol Moseley Braun is black. She ran in 2004 and she didn't win.
Obama has won in Utah, Idaho, North Dakota, Washington state, Delaware, Iowa, Vermont and Connecticut. All mostly white states. So did voters there choose him out of white guilt?
An increasing number of voices say that the Clinton camp wants this race and gender debate because it helps them. Even several Democratic strategists have said as much.
And now Ferraro says her 40 years fighting discrimination gives her the right to make such claims.
Sorry Ferraro, it does not.
– Roland S. Martin, 360° Contributor
Listen to Roland's radio show interview with Rev. Jesse Jackson re: Ferraro's comments