Bloggers!
Hey gang! Its been a while... Sorry I haven't written... I know, I know... I've been a bad friend.  Well, im back and im ready to go!!! So... ummm, what's new? What a night huh?!?
The 'Straight Talk Express' seems to have pulled into the station, and what do you know – the Hillary Clinton campaign has taken off again! Speaking of which,  It's time for 'Beat 360°' Everyday we post a picture – and you provide the caption. Our staff will get in on the action too.
Tune in every night at 10p ET to see if you are our favorite! Can you Beat 360°?
Here is today's "Beat 360°" pic of the day.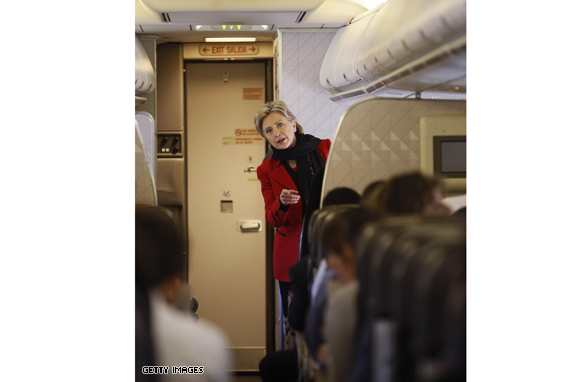 Here's one to get you started:
"…We'd like to welcome aboard our one-pass Superdelagte members…Should the campaign lose pressure, oxygen masks will drop from the overhead area… please secure their mask before applying your own…"

Have fun with it.
Make sure to include your name, city, state (or country) so we can post your comment.
– David Reisner, 360° Digital Producer