Coming into the CNN headquarters in New York a couple of days ago, I was greeted by a guard, "It's crunch time, isn't it?"  And so it is in the Democratic presidential race as we look toward this Tuesday.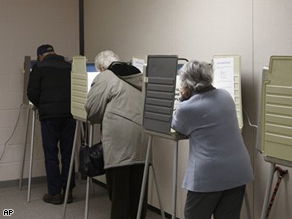 It is becoming an article of faith among Hillary Clinton supporters that she is having trouble because the press has been fawning over Barack Obama.  I don't share that view.  While there have been some tough stories about her and her campaign, that goes with the territory when you enter a race as the "inevitable winner" and are then upended by a virtual unknown who draws huge, boisterous crowds.  Certainly, many news organizations like CNN have given her a pretty fair shake.  Indeed, who can forget how much criticism CNN received for the YouTube debate in Florida when we were accused of being in the tank for Hillary?  Remember the catcalls that we were "Clinton Cable News"?
Heading into Tuesday night, some are saying that the way that commentators interpret the results could shape how the candidates are seen the day after.  Given the controversy over media fairness, it might be good to see if we can build some guidelines up front so that viewers know where we are coming from.  So, let me offer up the the score sheet I am currently working from - and invite viewers to tell me how to make it better: 
The current polls suggest a wide victory for Obama in Vermont and perhaps a narrow victory for Clinton in Rhode Island.  But the headliners Tuesday night are Ohio and Texas – it is the outcomes of these races that will determine the future of the race.  There are several possible outcomes, each of which will deserve a different interpretation:
1) Clinton wins both the popular vote and the majority of delegates in both Ohio and Texas:
She would clearly revive her campaign and become a serious threat to Obama's candidacy.  After 11 wins in a row, his momentum would come slamming to a halt and Clinton could legitimately claim that voters are having second thoughts. But she would still be far from winning the crown - Obama will still have won far more states and have far more delegates.  So, the two of them would look to a yet another showdown in Pennsylvania, on April 22, and possibly North Carolina, on May 6. 
2)  A split 
the mostly likely being Clinton wins Ohio; Obama wins Texas - each race now seems slightly tilted in this direction.  If so, Clinton will face strong calls from within her party to retire from the race, as Obama will still hold a sizable pledged delegate lead.  This will be very hard choice for her as she will clearly want to go on (after all, Ohio is a bell weather).  But with the chances of the nomination extremely slim, she may prefer to leave with grace - helping the party in the fall and keeping her options open for the future. Remember that Bill said she had to win both to be viable. 
3) Clinton wins Ohio and wins the popular vote in Texas, but Obama wins more delegates on the strength of a strong showing in the Texas caucus
In this case, Clinton will still have had a strong night and will have a much more plausible argument for staying in, even though she will still be far behind in delegates and face a steep hill to climb.
4) Obama wins Ohio and Texas
It's over.  Obama is the undisputed champion - ahead nationwide in popular votes, states, delegates, donors, fundraising, momentum, popular enthusiasm and more.  You name it, he will have won it.    
    That's the way I would score it.  What do you think?
– David Gergen, 360° Contributor